NOW AVAILABLE TO OWN OR VIEW ON DEMAND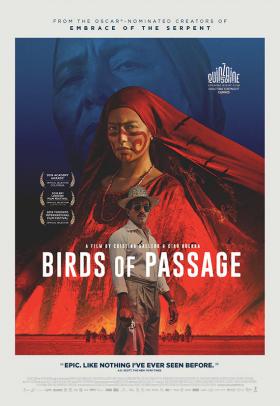 Powerful. A ­gripping combination of ethnography and crime thriller.
Fascinating. A tropical gothic tragedy of haunting power. An experience to seek out.
Extraordinary. Bracingly unique.
Remarkable. Something truly original. You have never seen a gangster movie like this. It never loses your full attention or fascination."
Powerful and compelling. This kind of story has been told many times before, but the potency of Birds of Passage is in the telling. It's shot with a kind of dream-like fervour.
OFFICIAL SELECTION – 2019 ACADEMY AWARDS - Best International Feature (Colombia)
OPENING NIGHT SELECTION (DIRECTORS' FORTNIGHT) – 2018 CANNES FILM FESTIVAL
OPENING NIGHT SELECTION – 2018 NEW ZEALAND INTERNATIONAL FILM FESTIVAL
OFFICIAL SELECTION (IN COMPETITION) – 2018 BFI LONDON FILM FESTIVAL
OFFICIAL SELECTION – 2018 TORONTO INTERNATIONAL FILM FESTIVAL
The highly anticipated new film from the creators of the Oscar-nominated Embrace of the Serpent, Ciro Guerra and Cristina Gallego's astounding BIRDS OF PASSAGE is an epic, visually exquisite crime saga about the destabilising effect of Western influences on the familial traditions and rituals of a proud indigenous family.
Guajira, Northern Colombia, 1970s. Wayuu tribe-member Zaida (Natalia Reyes) has come of age, leaving formidable matriarch Ursula (Carmiña Martínez) with the important task of finding a suitable match. Her instincts warn her against young Rapayet (José Acosta), an ambitious man with strong links outside of the clan, but the word of his respected uncle Peregrino (José Vicente Cotes) carries weight, so she accedes, setting an outrageous dowry. The seed sown, Rapayet stumbles onto a plan with his flamboyant friend Moises and cousin Aníbal to sell marijuana to a visiting American. It's the beginnings of a profitable new enterprise.
 
As the family rises to prominence, Ursula becomes increasingly complicit in her son-in-law's business dealings, insisting traditional honour codes are respected and observed. But the trappings of wealth and power soon incite a war that threatens to tear them and their ancient traditions apart.
A unique sensory adventure, BIRDS OF PASSAGE, with its fascinating depiction of duelling tribal codes, rituals and beliefs, couldn't be further removed from the time-honoured, rags-to-riches crime sagas of Western cinema. Almost mythical in its storytelling, this extraordinary film bursts with eye-popping traditional costumes and culture, an immersive atmosphere of surreal imagery, vivid sound design and glorious widescreen cinematography.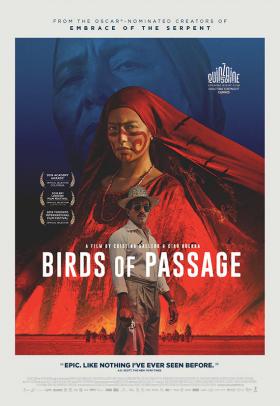 NOW AVAILABLE TO OWN OR VIEW ON DEMAND