NOW AVAILABLE TO OWN OR VIEW ON DEMAND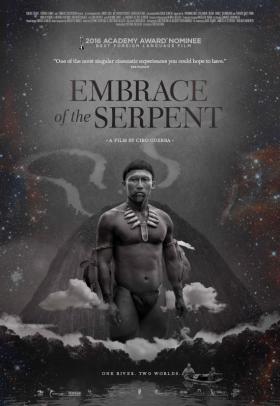 An enthralling, politically-tinged, psychedelic, historical adventure film. Ciro Guerra's gorgeous picture has that ripped-from-your-dreams sensibility, where surprising turns float alongside a story you feel like you've known your whole life. Embrace of the Serpent is the type of film we're always searching for, yet seems so obvious once we've found it.
NOMINEE – 2016 ACADEMY AWARDS – Best Foreign Language Film
WINNER – 2015 CANNES FILM FESTIVAL – DIRECTORS' FORTNIGHT
OFFICIAL SELECTION – 2015 TORONTO INTERNATIONAL FILM FESTIVAL
OFFICIAL SELECTION – 2015 BFI LONDON FILM FESTIVAL
OFFICIAL SELECTION – 2016 SUNDANCE FILM FESTIVAL
WINNER – 8 x COLOMBIAN OSCARS – incl Best Picture, Director, Screenplay, Cinematography, Sound
One of the best reviewed films of the year, Ciro Guerra's multi award-winning EMBRACE OF THE SERPENT is a breathtaking cinematic odyssey through the Amazon, following the quests of two Western explorers (one in 1909 and the other in the 1940s) in search of a rare flower alleged to have healing properties.
Inspired by the real-life journals kept by Theodor Koch-Grunberg (portrayed by Jan Bijvoet) and Richard Evans Schultes (Brionne Davis), the film charts each man's treacherous and life-changing journey. Though decades apart, both are guided through the labyrinthine rivers and jungles by the same native shaman, Karamakate (Nilbio Torres, and later Antonio Bolivar Salvado Yangiama), the last surviving member of his tribe, who takes them deeper and deeper into a heart of darkness…
Recalling such visionary films as Jim Jarmusch's Dead Man and Werner Herzog's Aguirre, the Wrath of God, EMBRACE OF THE SERPENT grips with suspense and revelation as it meditates on both the beauty of nature and the devastating impact of colonial interference on native culture. The spectacular widescreen black and white cinematography and evocative sound design combine to depict the landscapes and characters with an hypnotic, mythical sense of wonder.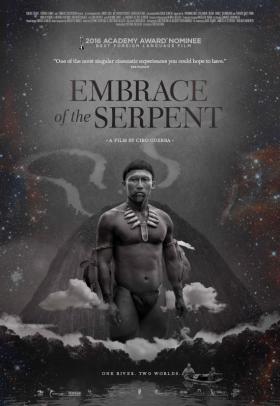 NOW AVAILABLE TO OWN OR VIEW ON DEMAND