NOW AVAILABLE TO OWN OR VIEW ON DEMAND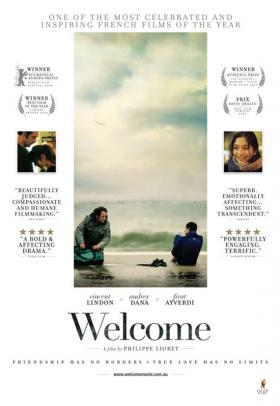 A masterclass. Gripping, moving and truthful.
THE SYDNEY MORNING HERALD
Miraculous. A grand romantic tale… A wonderful, deeply affecting movie."
WINNER - 2009 BERLIN INTERNATIONAL FILM FESTIVAL - Ecumenical Jury Prize, Label Europa Cinemas Prize
2010 CÉSAR AWARDS - 10x NOMINEE incl. Best Film, Actor (Lindon), Director, Screenplay & Cinematography
WINNER - 2010 LUMIERE AWARDS - Best Film
The multi award-winning film from writer/director Philippe Lioret is a compassionate and inspiring drama about the hope of new beginnings and the power of true love, centred on two couples contending with issues of separation and dislocation.
17-year-old Bilal has spent the last three months travelling illegally across Europe, in an attempt to reunite with his girlfriend Mina who has moved with her family to England. The long journey is almost over when he finally reaches Calais, on the far northern coast of France; he can literally see his destination from across the Channel. But with all legal options exhausted, Bilal resolves that his only option is to learn to swim, and make the dangerous crossing himself. Bilal seeks the help of middle-aged swimming instructor Simon (Vincent Lindon), who is privately reeling from impending divorce from his socially-conscious wife Marion. In an effort to win her back, Simon impulsively – and uncharacteristically – risks everything by taking Bilal under his wing.
A huge critical and box office success in its native France, this profoundly moving masterwork was awarded the Ecumenical Jury Prize at the Berlin International Film Festival, named Best Film at the 2010 Lumiere Awards, and received an astonishing ten Cesar nominations including Best Film and Director.