NOW AVAILABLE TO OWN OR VIEW ON DEMAND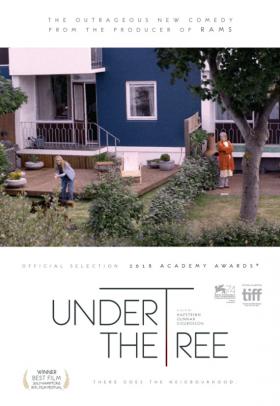 Sharp and stylishly-made, unsettlingly perceptive as well as absurdly comedic, Sigurðsson mines the minutiae of unhappy marriages and neighbourhood disputes to amusing and astute effect. The key to the feature's effectiveness is its presentation of outlandish behaviours with relatable motivations.
Easy to watch, funny and thoughtful. Sigurdsson packs so much emotional depth into his accomplished third feature. This near-perfect calibration between family drama and black comedy… has the audience literally torn between laughter and tears.
OFFICIAL SELECTION – 2018 ACADEMY AWARDS – Best Foreign Language Film
2018 ICELANDIC ACADEMY AWARDS - WINNER (x7) – incl. Best Film, Director, Actress (Edda Björgvinsdóttir), Actor (Steinþór Hróar Steinþórsson) & Original Screenplay 
OFFICIAL SELECTION 2017 – VENICE, TORONTO & ZURICH INTERNATIONAL FILM FESTIVALS
WINNER – 2017 HAMPTONS INTL. FILM FESTIVAL - Best Film
Writer/director Hafsteinn Gunnar Sigurðsson's UNDER THE TREE is a delicious black comedy about a simmering feud between two neighbouring suburban families that gets quite out of hand.
Thirty-something Atli (Steinþór Hróar Steinþórsson) has been thrown out of his marital home, accused of cheating, and has temporarily moved back in with his parents: stern mother Inga (Edda Björgvinsdóttir) and put-upon father Baldvin (Sigurdur Sigurjónsson, Rams). Next door, their old friend Konrad now lives with his new, much younger wife, the athletic Eybjorg – whose mere appearance incites torrents of expletives from Inga. Eybjorg is infuriated by the way the overhanging branches of Inga's giant tree block the precious sunshine from their deck, but Inga is resolute in forbidding her husband from trimming it back. 
Whilst Atli's desperate and socially questionable attempts to contact his wife and their daughter intensify, the across-the-fence dispute between the neighbouring couples escalates – property is damaged, pets go missing and security cameras are installed…
Universal yet singularly Scandi, Sigurðsson's funny, mordant and compulsively watchable story of bad behaviour in otherwise polite surroundings gradually takes the petty bourgeois tensions on display to rollicking, gasp-worthy extremes. You may find yourself nervously laughing the next time you want to talk to your neighbours about the noise.