NOW AVAILABLE TO OWN OR VIEW ON DEMAND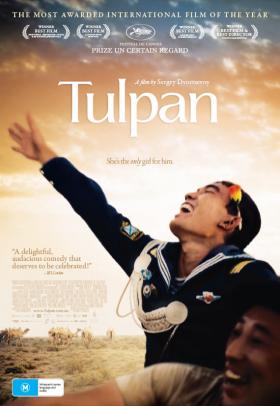 A beautiful, impressive, funny, sometimes startling film
A naturalistic wonder! It puts special effects to shame.
WINNER - 2008 CANNES FILM FESTIVAL - Prix Un Certain Regard
WINNER - 2008 BFI LONDON FILM FESTIVAL - Best First Feature
WINNER - 2008 TOKYO FILM FESTIVAL - Best Film & Best Director WINNER - 2008 ASIA PACIFIC FILM AWARDS - Best Film
Four years in the making, Sergey Dvortsevoy's debut feature TULPAN is a symphonic celebration of life and nature, disguised as an adorable, sweet-natured love story.


Crazy camels, dust storms and days spent chasing wayward sheep; this is the life of a shepherd on the bleak and windswept Kazakh steppes and it is all young Asa dreams about.
After completing his naval service, Asa travels back to the Hunger steppe where his sister and her shepherd husband live a nomadic life. Although eager to care for a flock of his own, Asa is told he must get married before he can become a fully-fledged shepherd. His one and only hope for marriage on the deserted steppe is Tulpan (meaning Tulip), the beautiful daughter of another shepherd family. Asa is disappointed to learn that Tulpan doesnt like him because she thinks his ears are too big, but he doesnt give up! Instead, he continues to dream of a life that may not be possible...
Polished, funny and utterly charming, Kazakhstan director Sergey Dvortsevoy's first feature film tells of a family not only surviving but also relishing the harsh life of nomad shepherds on a barren landscape.
One of the most internationally heralded films of 2008, TULPAN premiered at Cannes, scooping the three top prizes of Un Certain Regard, before going on to sweep through a series of international festivals, winning an unrivalled collection of Best Film awards and astonishing audiences with its extraordinary imagery, humanism and charm.