NOW AVAILABLE TO OWN OR VIEW ON DEMAND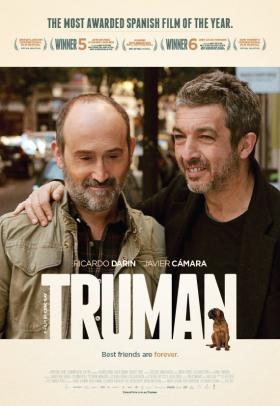 Wonderful, a lot of fun. Very thoughful and reflective, very funny too. A film with a light touch, full of moments that show more than tell. Two of the best Spanish speaking actors of their generation, at the height of their powers. The nuances of these performances speak volumes.
Quietly funny and a film of devastating power, neither mawkish nor obvious. If one of the concerns of Gay's films is how a man should behave in our times, Truman offers some useful lessons.
enuinely funny. There's rarely a moment when the viewer can't smile, albeit with mixed emotions. Director, Cesc Gay, gives proper weight to the concept of death, and manages to be both serious and amusing – a combination that seems like oil on water for so many Australian filmmakers.
WINNER – 2016 SPANISH ACADEMY (GOYA) AWARDS - Best Picture, Best Director, Best Actor (Darin), Best Supporting Actor (Camara) and Best Screenplay
WINNER – 2016 GAUDI AWARDS - Best Film, Best Director, Best Actor (Darin), Best Supporting Actor (Camara), Best Supporting Actress (Fonzi), Best Screenplay
WINNER – 2015 SAN SEBASTIAN FILM FESTIVAL - Best Actor, shared (Darin, Camara)
OFFICIAL SELECTION – 2015 TORONTO, SAN SEBASTIAN, BFI LONDON INTERNATIONAL FILM FESTIVALS
Two of the greatest talents in modern Spanish cinema – Ricardo Darín (Wild Tales) and Javier Camara (Living Is Easy With Eyes Closed) – take centre stage in the multi award-winning film from Cesc Gay, the director of 2014's A Gun In Each Hand. A bona fide audience favourite internationally, TRUMAN is a funny, heartfelt portrait of friendship, and life's unexpected ups and downs.
When theatre actor Julián (Darín) receives an unexpected visit from his childhood friend Tomás (Cámara), the encounter is bittersweet. This reunion is their first meeting in many years, triggered by Julian's failing health. Tomas is baffled by his friend's decision to forgo treatment and instead focus on putting his affairs in order: distributing possessions, reconciling past disputes, and, most importantly, finding a home for his beloved canine, Truman. It's this task that is causing Julián the greatest concern.
Over four days, the two men walk the streets of Madrid, visiting bookshops, restaurants, veterinarians and friends, and examine their lives – their loves, successes and failures – speculating on what the future holds.
In this jewel of a film, Cámara and Darin deliver a masterclass in screen acting, convincingly depicting the ease and rapport that only a life-long connection allows. With characteristic understatement and sensitivity, Gay finds great dignity and humour in ordinary lives, delivering a witty, moving and hugely entertaining reflection on human connection, and a reminder that the best friendships are, indeed, forever.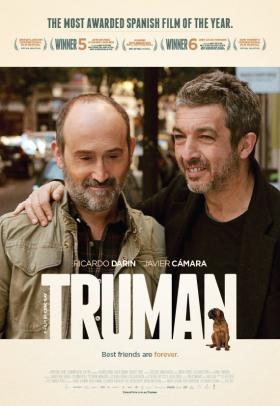 NOW AVAILABLE TO OWN OR VIEW ON DEMAND