NOW AVAILABLE TO OWN OR VIEW ON DEMAND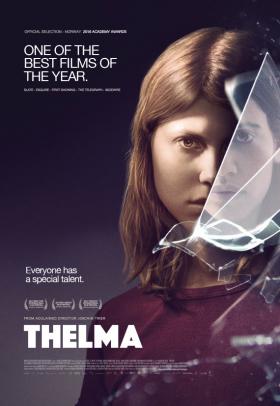 Trier torques the narrative tension masterfully. Thelma doesn't play with jump scares; its dreamlike dread is subtler and stranger, and much harder to shake.
Both a moving allegory and a compelling film. Scenes play slowly and effectively at their own pace, revealing striking imagery without relying on jumps, gore or, God help us, pop culture references. The final act, in which all social veneers crack like thin ice, is simultaneously terrifying and empowering.
OFFICIAL SELECTION (NORWAY) – 2018 ACADEMY AWARDS
WINNER – 2017 NORWEGIAN INTERNATIONAL FILM FESTIVAL - Best Film
OFFICIAL SELECTION – 2017 NEW YORK, TORONTO, BFI LONDON & ADELAIDE FILM FESTIVALS
From heralded writer/director Joachim Trier (Reprise, Oslo August 31st), THELMA is a spine-tingling thriller with a deeply romantic heart, about a lonely young woman who discovers she may have supernatural powers.
Brought up in rural Norway by her religious and quietly domineering mother (Ellen Dorrit Petersen) and father (Henrik Rafaelsen), painfully shy Thelma (Elli Harboe) has recently arrived in Oslo to begin her university studies. At the library one afternoon, she experiences a powerful seizure, and beautiful fellow student Anja (Kaya Wilkins) is there to help. Developing an overwhelming attraction to her new friend, yet anxious that these feelings betray her beliefs, Thelma begins to manifest a dangerous and uncontrollable power that her parents have long feared… 
While the genre-hybridity and northern setting is reminiscent of Let the Right One In, Trier's electrifying, constantly surprising film is in a world of its own, commanding attention right from its heart-stopping opening sequence and not letting go. Featuring stunning cinematography from Jakob Ihre and a star-making central performance from Harboe, THELMA is ultimately a daring and resonant exploration of the dangers of repression, and a sexy, head-spinning treat.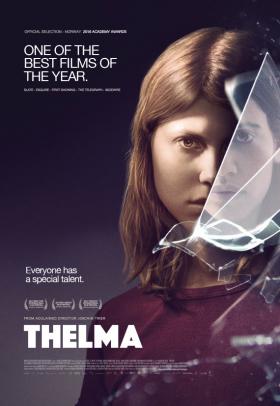 NOW AVAILABLE TO OWN OR VIEW ON DEMAND