NOW AVAILABLE TO OWN OR VIEW ON DEMAND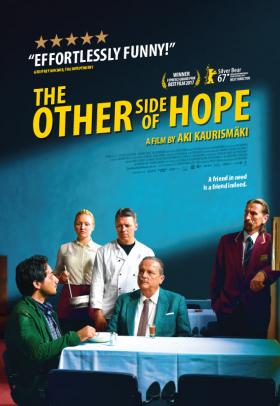 WINNER – FIPRESCI GRAND PRIX – Best Film of 2017
WINNER – 2017 BERLIN FILM FESTIVAL – Best Director
OFFICIAL SELECTION – 2017 TORONTO, TELLURIDE, SYDNEY & NEW YORK FILM FESTIVALS
Winner of the Silver Bear for Best Director at the 2017 Berlin Film Festival, where it topped the prestigious Screen International critics' poll, this hilarious and poignant comedy from beloved director Aki Kaurismäki (Le Havre, Drifting Clouds, The Man Without A Past) is a richly enjoyable and compassionate crowdpleaser about the friendship between a newcomer to Helsinki and a budding – if completely inexperienced – restaurateur.
After arriving in Finland from Syria as a stowaway on a freighter, Khaled (superb newcomer Sherwan Haji) applies for asylum. Things don't look encouraging, and not all locals present a welcoming face. But after crossing paths with stoic travelling shirt salesman-turned-entrepreneur Wikström (Sakari Kuosmanen), he finds an unlikely source of kindness and connection. When Khaled eventually receives news of his missing sister, Wikström hatches a scheme to help reunite the pair, but it seems getting out of Finland is much, much trickier than getting in…
Kaurismäki's thoughtful and unmistakably droll films often depict difficult situations and people working in solidarity to overcome them, but with THE OTHER SIDE OF HOPE he reaches new levels of resonance. Indeed, this intelligent, funny and affecting film has been hailed one of his best, and a masterful swansong from one of cinema's finest auteurs.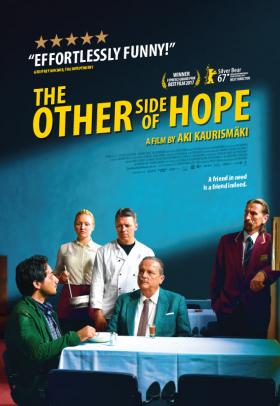 NOW AVAILABLE TO OWN OR VIEW ON DEMAND