NOW AVAILABLE TO OWN OR VIEW ON DEMAND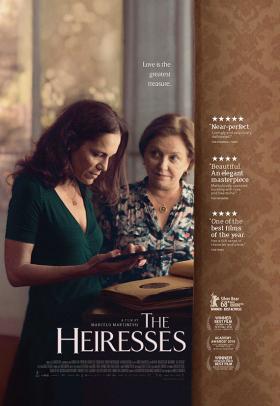 An evocative tale of class and female connection. Will resonate wherever you happen to live.
A gem. An immersive drama that never ceases to feel utterly real. Faultlessly played, down to the last mannerism and nuance. It's a tense slow-burner with that rare virtue, a great ending. Absolutely superb.
OFFICIAL SELECTION (PARAGUAY) – 2019 ACADEMY AWARDS
WINNER – 2018 SYDNEY FILM FESTIVAL – Sydney Film Prize for Best Film In Competition
WINNER – 2018 BERLIN FILM FESTIVAL – Best Actress (Ana Brun) & Alfred Bauer Prize
Winner of both the Berlinale Silver Bear for Best Actress and the prestigious Alfred Bauer Prize for opening new perspectives, writer/director Marcelo Martinessi's stunning debut drama THE HEIRESSES is an immersive and emotionally compelling look into the lives of the privileged, through the tribulations of a hesitant woman in quiet crisis.
Asunción, Paraguay, 2013. Sixty-somethings Chela (Ana Brun, superb in her debut performance) and Chiquita (Margarita Irún), both descendants of rich families, have been living together for more than thirty years, largely insulated from the troubles of the outside world. Times have changed though, and with debts mounting, the pair begins to sell off some precious heirlooms. Ultimately the financial situation proves untenable, and convicted of petty fraud, Chiquita is sent to prison by a court order.
Suddenly, the sheltered Chela must fend for herself. Swallowing her pride, she reluctantly begins working as a chauffeur for the other wealthy women of the neighbourhood. The changed circumstances lead her to, perhaps for the first time, contemplate her life and choices…
Subtle, perfectly modulated and impeccably performed, Martinessi exquisitely balances character study with shrewd commentary on class, desire and privilege to tell an intimate and serenely rewarding story of loss, loyalty and self-determination. Deservedly awarded best feature film at the 2018 Sydney Film Festival, THE HEIRESSES is, indeed, a jewel.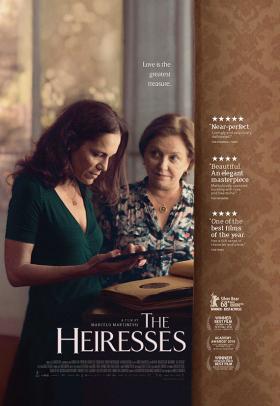 NOW AVAILABLE TO OWN OR VIEW ON DEMAND