NOW AVAILABLE TO OWN OR VIEW ON DEMAND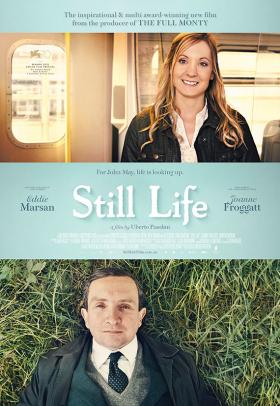 Deeply moving and richly rewarding – a film with incredible heart. Marsan is brilliant, his is a finely embodied, indelible performance deserving of every accolade. Resonant and life-affirming, Still Life is a tonic for the soul.
Wistfully funny. Sweet, poignant and absorbing.
WINNER – VENICE INTERNATIONAL FILM FESTIVAL - Art Cinema Prize for Best Film, Best Director (Horizons) & Pasinetti Critics' Prize
WINNER – REYKJAVIK FILM FESTIVAL – Best Film
WINNER – EDINBURGH FILM FESTIVAL – Best Actor
The long-awaited and multi award-winning new film from Uberto Pasolini, producer of the beloved worldwide smash-hit The Full Monty, STILL LIFE is a poignant and inspirational drama about a quiet, optimistic and selfless man who finds joy in helping everyone but himself.
For over 22 years, life for the unassuming John May (an indelible performance from the extraordinary Eddie Marsan) has been his work for the local council in South London, finding the next of kin for those in his community who have passed away alone. But in this age of 'efficiency', John's meticulousness and care is no longer deemed necessary, and he is abruptly made redundant. John is left with one assignment: a search for the relatives of an elderly neighbour, Billy Stoke.
As he journeys beyond London to piece together Billy's past, John uncovers a life of mischief, misadventure, love and regret, most of all for an abandoned daughter, Kelly (the radiant Joanne Froggatt, Downton Abbey) whom John manages to locate. These two insular people are naturally drawn to each other, and as friendship blossoms, John's outlook opens imperceptibly to life's possibilities…
Beautifully observed and profoundly affecting, STILL LIFE is a gem – a resonant and universal celebration of dignity, community values and human connection, and ultimately, all that life is worth living for.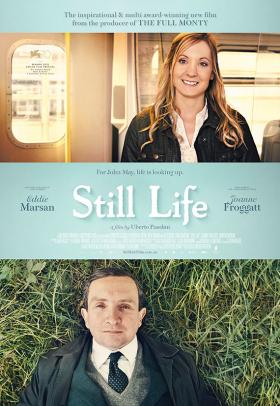 NOW AVAILABLE TO OWN OR VIEW ON DEMAND