NOW AVAILABLE TO OWN OR VIEW ON DEMAND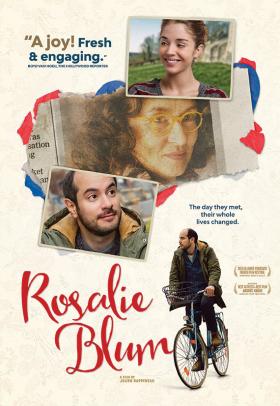 Charming and surprising. The casting is impeccable, the sense of humanity strong, and Rappeneau never pushes too hard, in terms of comedy or pathos. Manipulating the point of view is a clever device. It freshens the story, by breaking from linear narrative. The view becomes wide as well as long, with pleasing results.
SYDNEY MORNING HERALD/THE AGE
The sweetest, most delightful film you will see all year.
OFFICIAL OPENING NIGHT SELECTION – 2016 ALLIANCE FRANCAISE FRENCH FILM FESTIVAL
WINNER – BEST FILM AUDIENCE PRIZE – 2016 GIJON INTERNATIONAL FILM FESTIVAL
The biggest hit in the 27-year history of the Alliance Française French Film Festival, Julien Rappeneau's enchanting directorial debut ROSALIE BLUM is a witty and ingeniously crafted comedy about a random encounter that has unexpected and life-changing consequences.
Thirty-something Vincent Machot (indelibly played by Kyan Khojandi) is a hairdresser, like his father before him. Life rotates around work, his overbearing mother who lives in the apartment upstairs, and a womanising cousin constantly trying to set him up. But one morning Vincent experiences a powerful déjà-vu when he meets the gaze of a grocery store clerk, Rosalie Blum (the fabulous Noémie Lvovsky). Intrigued by this mysterious woman, he begins a search to uncover the truth behind their connection…
To reveal more would only spoil the surprises of Rappeneau's impeccably directed and performed tale, other than to say that a series of coincidences – both hilarious and moving – memorably brings together a group of lost souls in a manner reminiscent of Claude Berri's wonderful Hunting and Gathering. 
Indeed, with its themes of the importance of altruism, forgiveness and the value of compassion, ROSALIE BLUM delivers an ever-timely reminder of the best that French cinema has to offer. It's a joy to watch.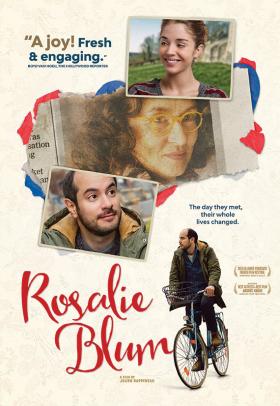 NOW AVAILABLE TO OWN OR VIEW ON DEMAND