NOW AVAILABLE TO OWN OR VIEW ON DEMAND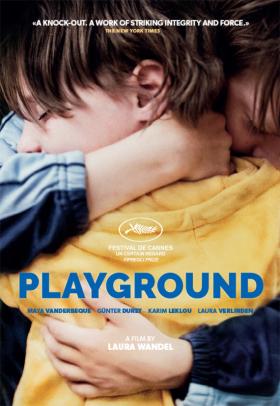 Janglingly visceral. Wandel's immersive, impressive debut is rigorous in its resolute focus on one little girl fighting a lonely, frightened battle for her future selfhood, in which what hangs in the balance is nothing less than the shape and measure of her developing soul. But out of focus, amid the background clamour, hover even larger, stranger and more fundamental questions, like how come school is the way it is, and why do we subject our children to it?
One of the most immersive film experiences in a long time. Exceptionally taut, acutely empathetic filmmaking. Vanderbeque is impossibly great, not a shred of artifice on show.
Gripping. With chilling precision and considerable generosity, the film studies its young subjects, extracting haunting conclusions about the Darwinian nature of ostensibly idyllic settings.
Potent, engrossing, piercingly insightful. A remarkable achievement.
2022 ACADEMY AWARDS – Best International Feature (Shortlist)
WINNER – 2021 CANNES INTERNATIONAL FILM FESTIVAL - FIPRESCI Prize (Un Certain regard)
WINNER – 2021 BFI LONDON FILM FESTIVAL – Best First Feature
OFFICIAL SELECTION (IN COMPETITION) - 2022 MELBOURNE INTERNATIONAL FILM FESTIVAL
Celebrated as one of the major European discoveries of the year, writer/director Laura Wandel's extraordinary, sit-up-and-take-notice debut explores the complex world of children, as navigated by a sensitive, empathetic seven-year-old girl.
Anxious about starting at a new school, young Nora (mesmerising newcomer Maya Vanderbeque) would prefer to stay home with her father (Karim Leklou). But despite her nerves, she soon becomes aware that her older brother, 10 year old Abel (Günter Duret), is being bullied by other kids. This puts Nora in a quandary: should she tell the adults about what's happening, or remain silent, as her brother begs? And if she does break his confidence, what will be the consequences? Or… should she take action herself?
Incisively observing all events from her protagonist's perspective, PLAYGROUND illuminates just how the conflicts, grievances and negotiations of the schoolyard dominate Nora's worldview. Transposing the neo-realist techniques of directorial forebears such as the Dardennes and Jacques Audiard to the inner world of kids, Wandel's gripping film is arguably one of the most truthful, emotional and memorable films made about childhood.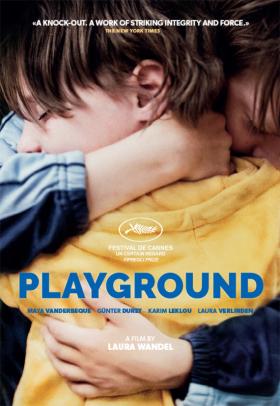 NOW AVAILABLE TO OWN OR VIEW ON DEMAND