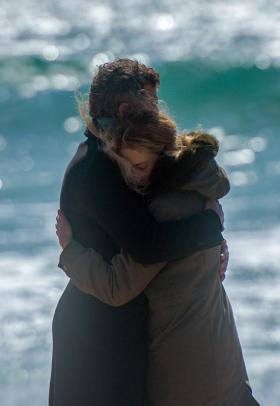 Rewarding. Proof that cinematic romances can be emotive without being kitsch. Will appeal anywhere that mature art-house viewers are happy to have their tearducts tweaked with intelligent expertise. The gentle, tentative interplay between Canet and Rohrwacher gels beautifully.
OFFICIAL SELECTION – 2023 VENICE INTERNATIONAL FILM FESTIVAL (In Competition)
Two of contemporary European cinema's brightest stars - Guillaume Canet and Alba Rohrwacher - are electric together in award-winning writer/director Stephane Brizé's achingly tender and charming new romance about two former lovers who unexpectedly cross paths in a sleepy holiday town.
It's winter. Approaching his 50th birthday, successful screen actor Mathieu (Canet) is facing a crisis of confidence; just weeks out from his much-anticipated stage debut, he has fled rehearsals to check into a luxury health spa on the Brittany coast, leaving both the play's perplexed director and his wife back home in Paris. But being a major A-list celebrity, it's impossible for Mathieu to lay low… recognised everywhere he goes, the hotel staff and fellow guests are both ecstatic and intrigued about his presence, and the requests for selfies never end.
Then suddenly, Mathieu receives a text message from Alice (Rohrwacher), a woman he'd dated fifteen years prior, who's heard he's in town; she's now a wife and mother who by chance lives nearby. They agree to meet for lunch, each evidently torn by the manner in which they parted…
Beautifully written, Brizè's elegant and wryly funny story of choices made and what might have been is distinguished by the exquisite chemistry of Rohrwacher and Canet, who deliver deeply-felt performances of subtlety and restraint. Drawing comparisons with such humanist and emotionally affecting works as David Lean's Brief Encounter, Sofia Coppola's Lost In Translation and Celine Song's recent Past Lives, Brizè's intimate and affecting film is a delight from beginning to end.