NOW AVAILABLE TO OWN OR VIEW ON DEMAND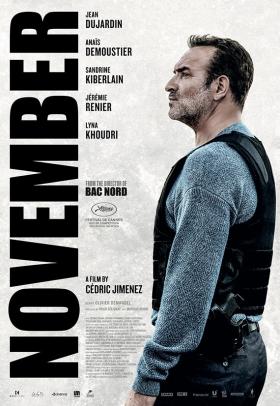 A very taut, powerful action thriller. It's go go go from the beginning... a white-knuckle ride. I recommend it.
A captivating and devilishly efficient suspense thriller.
Powerful, captivating and highly suspenseful.
Remarkable. Jimenez delivers a clinical account of these five days of extreme tension.
A breathless and unadorned race against time. The finale is as spectacular as it is liberating. A vibrant tribute to those who protect us.
2023 CÉSAR AWARDS - Nominee (x7) - incl. Best Director, Actor (Dujardin), Supp. Actress (Demoustier) & Supp. Actress (Khoudri)
OFFICIAL SELECTION - 2022 CANNES INTERNATIONAL FILM FESTIVAL (Out Of Competition)
From director Cédric Jimenez (Bac Nord), the all-star new thriller NOVEMBER is an edge-of-your seat deep-dive into one of the most incredible manhunts in European history.
NOVEMBER powerfully explores the perspective of the lead investigators of the French anti-terrorism services, working against the clock in the aftermath of the 2015 attacks across Paris. The unit led by Héloise (Sandrine Kiberlain) and her closest associates, Fred (Jean Dujardin) and Inès (Anaïs Demoustier), having been caught off guard, assembles under immense pressure. With the Interior Ministry pushing for results, and almost overwhelmed with the weight of the responsibility, they're faced with the near-impossible task of catching the culprits before they can strike again…
After premiering to acclaim at the 2022 Cannes Film Festival, NOVEMBER stormed the local box office in late 2022 to become the most successful French release of the year (achieving a spectacular 2.3 million+ admissions). Focusing on the highly-charged pursuit – and the moral and ethical boundaries it pushes – rather than on the crimes themselves, Jimenez delivers breathtaking action and suspense. Fans of The Bureau and the iconic 'policier' thrillers of the 70s should not miss NOVEMBER.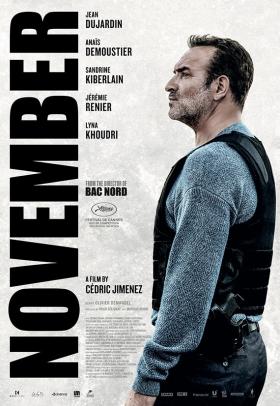 NOW AVAILABLE TO OWN OR VIEW ON DEMAND