NOW AVAILABLE TO OWN OR VIEW ON DEMAND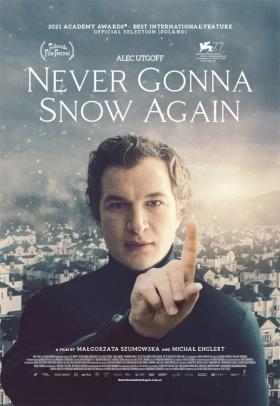 Dreamlike and unnerving. A hypnotic viewing experience that awakens all senses through our eyes. The plot and imagery are gorgeously intertwined.
Serene and melancholy, full to the brim with arresting compositions. A modern fairy tale for a cynical world.
A film that asks a question for every answer it gives, and whose crackerjack images leave you wondering, in the best of senses: wait, what did I just see?
OFFICIAL SELECTION – 2021 ACADEMY AWARDS – Best International Feature (Poland)
OFFICIAL SELECTION – 2020 VENICE INTERNATIONAL FILM FESTIVAL
OFFICIAL SELECTION – 2020 TELLURIDE FILM FESTIVAL
From multi award-winning writer/director Małgorzata Szumowska (Elles) and her long-time cinematographer Michał Englert, NEVER GONNA SNOW AGAIN is a beguiling modern fable about an affluent gated community forever altered by the arrival of an enigmatic stranger who may - or may not - have powers of healing.
One grey, foggy morning, a mysterious young man, Zhenia (Alec Utgoff, Stranger Things), crosses the border from the Ukraine into Poland, carrying only a massage table. When faced with a staid official at Warsaw's immigration office, he secures the necessary residence permit by simply taking the man's head in his huge, soft hands and massaging him into a trance.
Zhenia soon establishes himself with the well-to-do residents of a suburban gated community of identical white McMansions, where his unique talents quickly become in demand. Among the clientele are Maria (Maja Ostaszewska), who finds a calm in Zhenia that her hostile children and husband don't provide; derisive widow Ewa (Agata Kulesza, Ida) who lusts after the masseur in more ways than she'll dare admit; a woman obsessed by her three bulldogs who pleads for them to also be treated, and Wika (Weonika Rosati), who has invested the last hopes for her cancer-stricken husband (Lukasz Simlat, Corpus Christi) in Zhenia's seemingly magical fingertips. But as he navigates through the affairs, drinking, drug-taking and games of neighbourly one-upmanship, no one thinks to ask Zhenia about his own concerns, least of all his mysterious origins…
Anchored by Utgoff's utterly magnetic central performance, Szumowska and Englert's study of class and modern malaise astutely blends magic realism with dark humour and stunning production design to often jaw-dropping effect. Following Pawel Pawlikowski's Cold War and Jan Komasa's Corpus Christi as Poland's official entry to the Academy Awards, NEVER GONNA SNOW AGAIN is a striking jewel worthy of equal attention.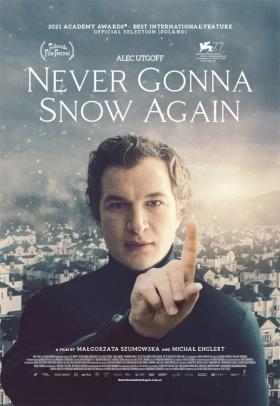 NOW AVAILABLE TO OWN OR VIEW ON DEMAND