NOW AVAILABLE TO OWN OR VIEW ON DEMAND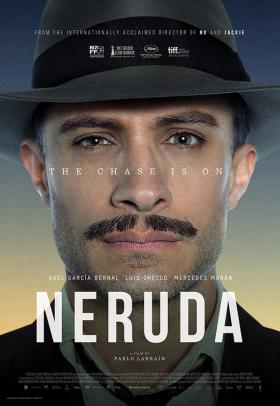 One of the best films released so far this year. Exciting filmmaking. A lush, funny, whimsical film that takes on the shape of a hard boiled film noir… a very suspenseful game of cat and mouse through the salons and slums and brothels of Chile (Neruda likes the good life) as he escapes the authorities. A very inventive examination of power and image and myth-making. It works wonderfully well. Go see it.
NOMINEE – 2017 GOLDEN GLOBES – BEST FOREIGN LANGUAGE FILM
OFFICIAL SELECTION (CHILE) – 2017 ACADEMY AWARDS – BEST FOREIGN LANGUAGE FILM
OFFICIAL SELECTION – 2016 CANNES INTERNATIONAL FILM FESTIVAL – DIRECTORS FORTNIGHT
OFFICIAL SELECTION – 2016 TORONTO INTERNATIONAL FILM FESTIVAL
OFFICIAL SELECTION – 2016 NEW YORK FILM FESTIVAL
A glorious mix of history and imagination, NERUDA is the enthralling new film from multi award-winning director Pablo Larraín (No, Jackie), a lavishly mounted and grandly entertaining depiction of the manhunt for exiled Chilean poet and politician Pablo Neruda.
It's 1948, and the Cold War has reached Chile. Following the President's outlawing of communism, Neruda (played by Luis Gnecco, bearing a remarkable likeness) and his artist wife Delia (Mercedes Morán) are forced into hiding. Beloved by the populace, they slip underground and are pursued by incompetent, vainglorious police inspector Oscar Peluchonneau (the superb Gael García Bernal), hoping to make a name for himself by capturing the country's most infamous fugitive.
Whilst life on the run holds little charm for the cultured and hedonistic Neruda, he uses the opportunity to reinvent his work and life, leaving clues for his pursuer designed to make their game of cat-and-mouse even more dangerous and thrilling. Thwarting Peluchonneau at every turn, it's almost as if the detective is the man Neruda would have written to chase himself…
Blending visual grandeur and literary wit, NERUDA is a beguiling reinvention of the 'standard' cinematic biography. Playfully confounding expectations at every turn, the film offers a startling rumination on the split between the person and persona, the man and the artist. 
Gripping, funny and ingeniously conceived, this is undoubtedly Larraín's finest achievement to date.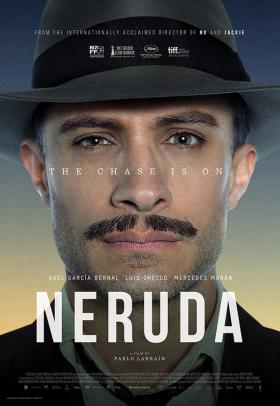 NOW AVAILABLE TO OWN OR VIEW ON DEMAND