NOW AVAILABLE TO OWN OR VIEW ON DEMAND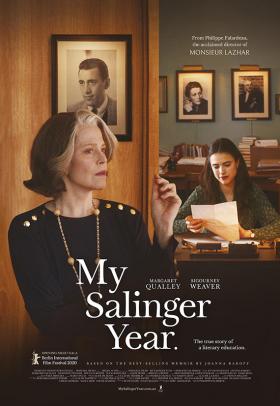 A wonderful film, a real charmer! The most holiday-friendly title of summer. A gentle, thoughtful film about ambition, talent and a young woman's entrance into an adult world. The friendships and romances never play out in predictable ways. The very talented Philippe Falardeau, who made the attentively compassionate Monsieur Lazhar, has a warm-heartedness and eye for character that serve him well. A delight.
Weaver and Qualley both convince. As in the film 'The Devil Wears Prada' (also about a glamorous but misunderstood industry), this is about the desire to retain ambition and hope and yet balance it with realism and resilience. Falardeau's 'Monsieur Lazhar' (2011) was an under-seen gem and here he once again allows the well-observed human sentiments and particularities of character to anchor the film.
A triumph! Towering turns from Sigourney Weaver and Margaret Qualley are the driving force in this affectionate true-life tale. From the moment Weaver appears on screen in power suit, cravat and dashing white Anne Bancroft streak, you suspect that it's going to be fun. And she doesn't disappoint. It's one of the roles of her career.
A warmly understated homage to the publishing world that captures the exciting palpitations literature and writing inspire.
Falardeau's gentle adaptation of Joanna Rakoff's elegant and much-loved memoir is full of charm and intelligence, deftly capturing a world that has sadly vanished.
A superb, intelligent, brilliantly conceived coming of age story, marked by a series of stellar performances. A life affirming elixir for those yearning for quality adult cinema.
OPENING NIGHT GALA – 2020 BERLIN INTERNATIONAL FILM FESTIVAL
The much-anticipated new film by Academy Award®-nominated writer/director Philippe Falardeau (Monsieur Lazhar), MY SALINGER YEAR unites three-time Oscar®-nominee Sigourney Weaver and radiant new talent Margaret Qualley (Once Upon A Time… in Hollywood) for a hugely enjoyable adaptation of Joanna Rakoff's internationally bestselling memoir about a young woman's literary education.
It's the mid-90s: idealistic twenty-something Joanna (Qualley) impulsively quits graduate school and arrives in New York to pursue her dream of becoming a published poet. She manages to get her foot in the door, landing a coveted role as assistant to Margaret (Weaver), a brusque and old-fashioned literary agent. Joanna's life soon fluctuates between poverty and glamour – her days spent in plush, strangely anachronistic wood-panelled offices where dictaphones and typewriters still reign and agents doze after three-martini lunches – and her nights in the sinkless Brooklyn apartment shared with her socialist boyfriend (Douglas Booth).
The agency's most famous client is the notoriously reclusive writer J.D. Salinger, and Joanna's principal responsibility is to process the voluminous fan mail that arrives for him daily from readers around the world. Her strict instructions are to reply with one of the office's impersonal, pre-formulated responses, and destroy the letters, but she cannot help feeling deeply affected by some of the more heartfelt correspondence, and secretly starts answering them personally. As Joanna begins to discover her own voice, she puts everything else at risk…
Keenly observed and wryly funny, with whip-smart performances from its two indelible leads, MY SALINGER YEAR is a memorable and compassionate depiction of a pre-digital world on the cusp of disappearance, the value of mentorship, and the lasting impact of self-expression in all its forms.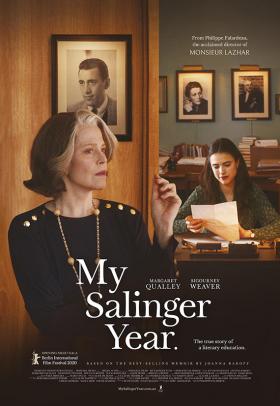 NOW AVAILABLE TO OWN OR VIEW ON DEMAND