NOW AVAILABLE TO OWN OR VIEW ON DEMAND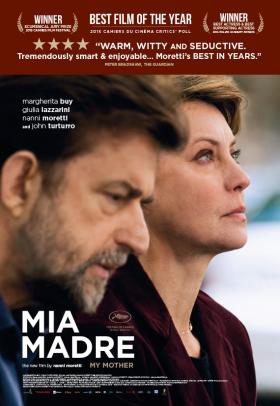 WINNER – 2015 CANNES FILM FESTIVAL – Ecumenical Jury Prize
NOMINEE – 2015 EUROPEAN FILM AWARDS – Best Director & Best Actress
WINNER – 2015 ITALIAN ACADEMY AWARDS – Best Actress & Best Supporting Actress
Acclaimed Italian auteur Nanni Moretti's semi-autobiographical and award-winning new dramedy stars the stunning Margherita Buy as a filmmaker struggling to balance life and art.
Margherita (Buy) is directing a new social drama, set against the backdrop of an industrial dispute. Try as she may to remain professional, the emotional turmoil of her private life is taking a toll: an affair with one of her actors (Enrico Ianniello) has come to an end, her adolescent daughter (Beatrice Mancini) is failing Latin, but most troubling is the recent hospitalization of her formidable, beloved mother Ada (Giulia Lazzarini). Whilst her brother Giovanni (Moretti) gradually allows himself to be engulfed by his mother's last days, taking extended leave to prolong his bedside vigil, Margherita's tough schedule makes more than a daily visit tricky. 
Meanwhile, the famous American actor Barry Huggins (the fabulous John Turturro) has arrived, a needy and capricious personality whose brash presence on set sees things go from bad to worse, and whose general ineptitude might finally push Margherita over the edge…
With characteristic openness to life's big questions, Moretti's mature and hugely entertaining film skillfully manoeuvres between pathos and comedy as it considers the uneasy relationship between artistic ambition and everyday life, the real and the imagined. Widely acclaimed at the Cannes Film Festival as Moretti's best film since the Palme d'Or winning The Son's Room, and named best film of the year by the influential Cahiers du Cinéma, MIA MADRE is another rich and affectingly humanist work from one of world cinema's true masters.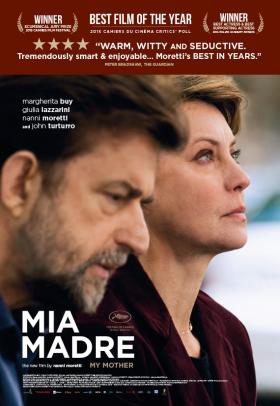 NOW AVAILABLE TO OWN OR VIEW ON DEMAND