SYDNEY & MELBOURNE PREMIERE SEASON COMMENCES 17 JUN 2021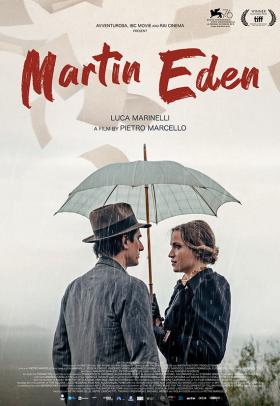 An absolute blast. Includes documentary footage, wealthy decadence, left-wing politics, angry speeches (in Italian!), beautiful women, square-jawed men, quotations from Baudelaire and the heroic deployment of manual typewriters, hand-rolled cigarettes, ascots and Volvo sedans. Everything I love in movies, more or less.
Luminous cinema. The tense, emotional energy behind Martin's archetypal European hero's journey (think: Faust, Hamlet) is expressive and dynamic. Among all else, Marcello's re-telling of "Martin Eden" is an indictment of pandering art, much like James Gray or Martin Scorsese's call to a more challenging, illuminating, and thoughtful expression of filmmaking. And it's dazzling ambit goes to show that such films aren't limited by that directive, so much as they are set free by it.
A masterpiece. Agonisingly beautiful.
"THE BEST FILM OF THE YEAR" - Manohla Dargis, The New York Times
WINNER – VENICE INTERNATIONAL FILM FESTIVAL - Best Actor
WINNER – TORONTO INTERNATIONAL FILM FESTIVAL - Platform Prize (Best Film)
OFFICIAL SELECTION – BFI LONDON FILM FESTIVAL
OFFICIAL SELECTION – NEW YORK FILM FESTIVAL
Bold and dazzling, acclaimed writer/director Pietro Marcello's multi award-winning drama MARTIN EDEN provocatively transposes Jack London's 1909 novel about a self-taught and outspoken writer out of the American West and into a pivotal moment in Italy's pre-war history.
Thirty-something sailor Martin Eden (remarkable newcomer Luca Marinelli) is inspired to remake himself as a novelist, following a chance encounter with the sophisticated, wealthy Elena (the luminous Jessica Cressy). She immediately becomes not only the object of his passionate affections, but also the symbol of the status Martin aspires to achieve. Pursuing his newfound social and literary obsessions, Martin abandons his friends and working-class roots without hesitation, but eventually undergoes a political awakening that triggers yet another change.
A passionate and enthralling cinematic achievement in the tradition of Rossellini and Visconti, Pietro Marcello's enveloping and superbly-mounted fable interweaves historical footage with an extraordinary production design of his own. The film's ideas are universal and timeless: the hypocrisy of class, the disillusionment of ideologies, the limits of romanticism and realism, and the question of what it means, ultimately, to be an individual.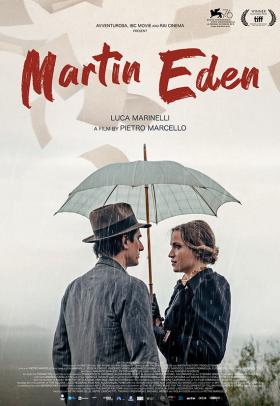 SYDNEY & MELBOURNE PREMIERE SEASON COMMENCES 17 JUN 2021
Click through to your preferred venues below for times & tickets: