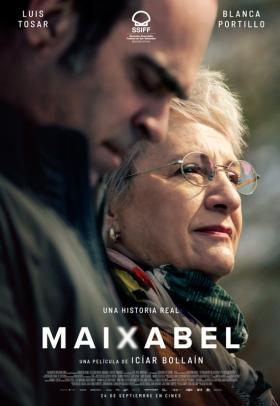 Breath-taking. Thanks to some extraordinary writing, matched by performances of humbling intensity and integrity, 'Maixabel' expands to become an emblematic war story, specific to its time and place but human in scope. Portillo is straight-up remarkable.
WINNER – 2022 SPANISH ACADEMY AWARDS (Goyas) - Best Actress, Supporting Actor, New Actress
WINNER – 2022 SAN SEBASTIAN FILM FESTIVAL – Best Basque Film
WINNER – 2022 FEROZ AWARDS- Best Film, Supporting Actor
Based on true events, the deeply moving new drama from award-winning filmmaker Icíar Bollaín (Take My Eyes, Even The Rain, Rosa's Wedding) is an inspiring story of a mother who must take a courageous and risky step towards forgiveness and healing.
It's the year 2000. Retired Spanish politician Juan María Jaúregui is murdered by the Basque terrorist group ETA as he sits in a cafe. Eleven years later, his widow Maixabel Lasa (Volver's Blanca Portillo) receives an incredible request: one of the men responsible for his death wants to meet with her at the prison in Álava where he's serving his sentence. To the shock of those around her, Maixabel agrees. "Everyone deserves a second chance", she says.
Deserved winner of Best Actress at the 2022 Goya Awards, Portillo delivers a stand-out performance in the title role, alongside an outstanding ensemble cast that includes the great Luis Tosar. Rich with emotion and humanity, and a haunting original score by Alberto Iglesias, MAIXABEL is a tribute to the redemptive power of truth, dignity and reconciliation, as it revisits true events to create a powerful insight into modern Spain.