AUSTRALIAN PREMIERE SEASON NOW SHOWING!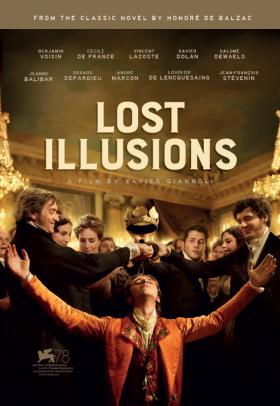 Glorious! Splendidly done. A darkly funny, world-as-it-ever-was drama that is as relevant now as when first published as a novel close to 200 years ago. The film is sumptuously shot, superbly acted and has a nonstop, whip-smart dialogue that, in English, might have been written by Aaron Sorkin.
Period-drama perfection. Acted with such terrific panache that not enjoying it is impossible. The film's galloping momentum is exhilarating, and there is broad comedy in its elision of carnal desire and social ambition. Superb.
Rollicking and sumptuous. It's a rich gateau of a movie; excessive, impressive and licentious. Voisin is superb.
One of the year's best. Filled with rich, interesting characters playing power games and trying to outmanoeuvre their adversaries. Captivating from start to finish, it's an insightful look into a fascinating time. A must-see.
A splendidly involving tale full of thematic parallels to today's world of fake news and corrupt and immoral media.
Superb. A dazzling modern fresco.
Engrossing and exceedingly prescient. A sumptuous, impeccably made period piece on the allure of fame, followers and fake news. Exceptional.
Absurdly extravagant… stuffed with elaborately dressed sets, costumes that could be in museums and every French star you can remember.
A joyous romp not to be missed... Not only a meaty and provocative adaptation of a Balzac gem, but also one of the funniest and most romantic films of the year.
WINNER - 2022 CÉSAR AWARDS (x7) - incl Best Film, Adapted Screenplay, New Actor (Voisin), Supp. Actor (Lacoste)
WINNER - 2022 LUMIERE AWARDS – Best Screenplay
OPENING NIGHT GALA - 2022 ALLIANCE FRANÇAISE FRENCH FILM FESTIVAL
OFFICIAL SELECTION – 2021 VENICE INTERNATIONAL FILM FESTIVAL
OFFICIAL SELECTION – 2021 SAN SEBASTIAN FILM FESTIVAL
OFFICIAL SELECTION – 2021 ZURICH INTERNATIONAL FILM FESTIVAL
An all-star cast dazzles in the spectacular and exhilarating new film by Xavier Giannoli (The Singer, Marguerite), an adaptation of Balzac's classic novel about a young idealist who learns that anything can be bought and sold.
1821. Handsome poet Lucien (Benjamin Voisin, in a star-making turn) is poor, but highly ambitious. Failing to make a name for himself in his provincial hometown, he naively follows his married patroness (a radiant Cécile de France) to the glamorous beau monde of Paris. 
But Lucien has entered a society far more dangerous than he realised, and the venomous denizens of the salons (brought to life by a superb ensemble including Jeanne Balibar, Gérard Depardieu and Xavier Dolan) conspire to keep him out of their ranks. Lucien is forced to abandon his principles and find work at a low-brow newspaper, where his scathing critiques soon cause a sensation and arouse the interest of admirers and publishers. But in a society where profit and status rule, what is really left for Lucien?
Epic in scope and impact, LOST ILLUSIONS is an eerily prescient fable bracingly attuned to the anxieties of the modern media age. Winner of seven 2022 César Awards including Best Picture, this is grand French cinema at its most lavish, and finest.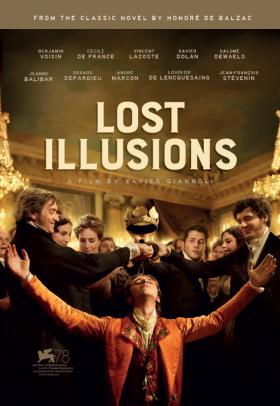 AUSTRALIAN PREMIERE SEASON NOW SHOWING!
Click your preferred venue below for times & tickets: