NOW AVAILABLE TO OWN OR VIEW ON DEMAND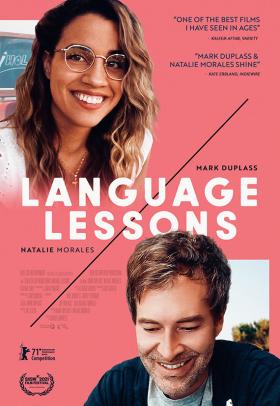 Graced with charm and genuine heart. The empathy invested in both characters pulls you in.
A delightful debut. Charming, engrossing and surprisingly inspiring: this movie is a testament to the power of dialect and how it shapes our worldview and fuses and unites us.
A platonic romcom for the zoom era. Films explicitly about the formation of friendships are rare, and Morales and Duplass have fashioned rather a perceptive one.
I want to wear this film in a heart shaped locket around my neck. 'Language Lessons' reduces me to monosyllables; it is just pure and good and hard and kind and - ultimately - just so, so, so real.
One of the pandemic era's most moving and effective odes to long-distanced intimacy. A near-exemplary film which will, with any luck, transcend this present moment in time.
WINNER – 2021 SXSW FILM FESTIVAL – Audience Award
SPECIAL PRESENTATION – 2021 BERLIN INTERNATIONAL FILM FESTIVAL
OFFICIAL SELECTION - 2021 BFI LONDON FILM FESTIVAL
Directed by Natalie Morales and written in collaboration with her co-star Mark Duplass, this charming and award-winning comedy follows a Spanish teacher and her student whose online connection takes on far more importance than either could have anticipated.
For his 45th birthday, wealthy Californian Adam (Mark Duplass) receives a surprise gift from his choreographer partner: 100 weekly Spanish lessons with Cariño (Natalie Morales), a vivacious expat who teaches virtually from her home in Costa Rica. Adam's unconvinced at first; a self-described "creature-of-habit", he's unsure about where or how this new element will fit into his carefully-structured routine. But after unexpected events turn his life upside down, Cariño becomes a lifeline he didn't know he needed, and a complicated emotional bond develops...
Upending classic meet-cute tropes, this clever and unassuming film effortlessly shifts between comedy and pathos, echoing the ups and downs of life. Bittersweet, honest and fresh, LANGUAGE LESSONS is a disarmingly moving exploration of friendship and connection.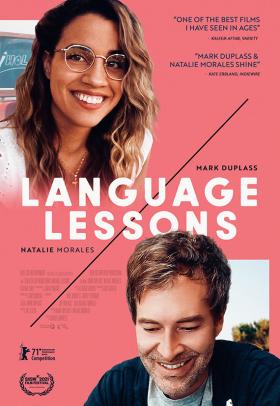 NOW AVAILABLE TO OWN OR VIEW ON DEMAND