NOW AVAILABLE TO OWN OR VIEW ON DEMAND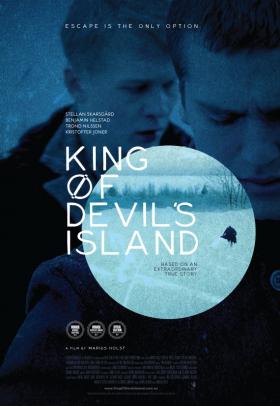 Immaculate. A chilly & compelling Nordic drama. A refreshing surprise that offers up a character-driven take on the genre that throws familiar notions of how this kind of story should play right out the window. Truly something unique.
Based on remarkable true events in Norway in 1915, KING OF DEVIL'S ISLAND tells an extraordinary story of friendship, loyalty and rebellion, set on a remote ice-bound island reform school.
At Bastøy (located in the fjord of Oslo), life is tough; the manual labour is arduous and the young wards are underdressed and underfed for the freezing winter. Hard work and discipline are what the guards believe will convert these youths into well-adjusted Christian citizens.
So when enigmatic 17-year-old Erling (magnetic newcomer Benjamin Helstad) arrives at Bastøy, his defiant attitude makes an immediate impression on the other boys, and rattles the authority of the stern governor (Stellan Skarsgård). Erling quickly determines the only means of survival is escape, but this unwittingly transforms him from the role of fugitive into the leader of a rebellion, provoking an astonishing series of events that remain unparalleled in Norwegian history…
With sweeping widescreen cinematography, immaculate period detail and wholly impressive performances, KING OF DEVIL'S ISLAND depicts a classic, timeless story of both physical and moral courage. After premiering to strong audience and critical acclaim at the 2011 Rotterdam Film Festival, the film achieved record-breaking success at the local box office, fuelling an intense public debate by a nation forced to reexamine part of its buried history.