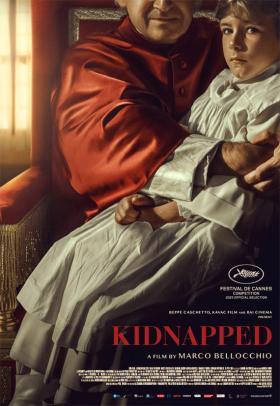 Bellocchio is in top form here, relating the facts of the case with the fury they deserve but in the beguiling style of Baroque painting, full of dark shadows, sharp angles and an appropriately forbidding grandeur.
OFFICIAL SELECTION – 2023 CANNES INTERNATIONAL FILM FESTIVAL (In Competition)
WINNER - 2023 ITALIAN GOLDEN GLOBES - Best Film
WINNER (x7!) - 2023 NASTRI D'ARGENTO AWARDS - incl. Best Film, Director, Screenplay, Actress (Barbara Ronchi), Supp. Actor (Paolo Pierobon)
OFFICIAL SELECTION - 2023 MELBOURNE INTERNATIONAL FILM FESTIVAL (Headliners)
OFFICIAL SELECTION - 2023 NEW ZEALAND INTERNATIONAL FILM FESTIVAL
OFFICIAL SELECTION - 2023 TORONTO INTERNATIONAL FILM FESTIVAL (Special Presentation)
OFFICIAL SELECTION - 2023 NEW YORK FILM FESTIVAL
OFFICIAL SELECTION - 2023 BFI LONDON FILM FESTIVAL
Based on incredible true events, the gripping new historical drama from master auteur Marco Bellocchio (The Traitor, Good Morning Night, Vincere) follows the story of a young boy whose abduction from his parents by the Vatican fuelled outrage in 19th-century Italy, and triggered a global scandal.
1858, the Jewish quarter of Bologna. The Pope's soldiers burst into the home of the bourgeoisie Mortara family: by order of the cardinal (Filippo Timi), they have come to take six-year-old Edgardo (Enea Sala) to Rome. Unbeknownst to his parents Momolo (Fausto Russo Alesi) and Marianna (Barbara Ronchi), Edgardo had been secretly baptised by his nurse as a baby and the papal law is unquestionable: he must receive a Catholic education, thus, his parents must either convert or lose him forever. The Motara's struggles to have their son returned soon takes a political dimension, driven by the support of public opinion and the international Jewish community, but the Church and ultimately Pope Pius IX (Paolo Pierobon) himself stand resolute in the face of criticism, aiming to consolidate their increasingly wavering power...
Renowned for engaging with the social and political contradictions of Italian identity, Bellochio's powerful and operatic new film probes historical antisemitism and the arbitrary exercises of influence by the pre-unification Church. After its lauded Cannes debut KIDNAPPED has reignited debate in Italy, where the actions of Pius IX – who was beatified in the year 2000 - have never been officially condemned.