NOW AVAILABLE TO OWN OR VIEW ON DEMAND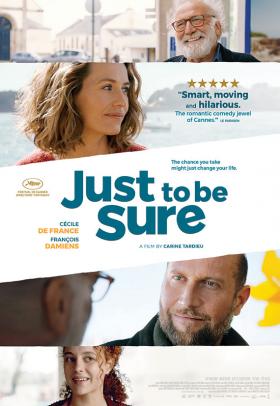 OFFICIAL SELECTION – 2017 CANNES INTERNATIONAL FILM FESTIVAL – DIRECTORS' FORTNIGHT
The breakout French hit of the 2017 Cannes International Film Festival, where it premiered in the Directors' Fortnight to multiple, raucous standing ovations, writer/director Carine Tardieu's charming romantic comedy JUST TO BE SURE is a winning tale of parenthood, love and family, both lost and found.
When lonely 45-year-old widower Erwan (the remarkable François Damiens, The Bélier Family) discovers by accident that that man who raised him isn't his real father, he begins a search for his biological one. Thanks to a local private detective he soon locates the mischievous, 70-something Joseph (Le Havre's Andre Wilms), whom it seems his mother may have known briefly. Erwan soon falls not only for his charm, but that of the impetuous Anna (a radiant Cécile de France), who has ties to them both. But the conflicting loyalties become compounded by the pregnancy of his own daughter (Alice de Lencquesaing), who defiantly refuses to name the father… very soon Erwan's families begin to collide, to unexpected, hilarious and moving effect.
Offering a terrific showcase for her brilliant cast, director Carine Tardieu skillfully weaves a wholly-entertaining exploration of love, coincidence and human connection. Few films manage to pluck both the heartstrings and the funny bone as well as JUST TO BE SURE. It's a delight.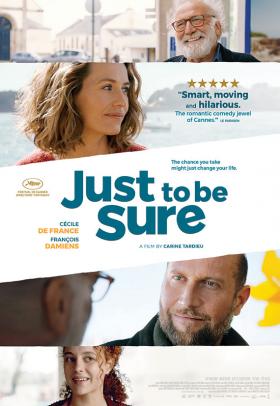 NOW AVAILABLE TO OWN OR VIEW ON DEMAND