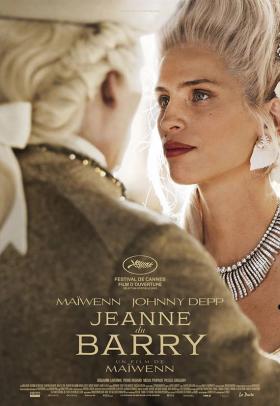 Mischievous. A sparkling tale where historical realism and fantasy combine.
Strikes straight to the heart with its tragic romanticism, its lyricism and its crafted dialogues which convey a fierce modernity.
OPENING NIGHT GALA - 2023 FESTIVAL DE CANNES
The lavish new historical drama from writer/director Maïwenn (Mon Rois, Polisse), JEANNE DU BARRY is freely inspired by the life of the titular rags-to-riches social climber, a working-class woman who became the mistress of King Louis XV, played with taciturn command by Johnny Depp in his first French-language speaking role.
18th Century, pre-Revolution France. Jeanne Bécu (Maïwenn), the illegitimate daughter of a monk, hungers for culture and pleasure, and is determined to escape her commoner upbringing. With charm and sharp wit, she builds a reputation as a skilled courtesan and her benefactor, the Comte du Barry (Melvil Poupaud) grows rich through her amorous encounters. Wishing to present her to the widowed King (Depp), a renowned womaniser, the Comte orchestrates a meeting through the influential Duke of Richelieu (Pierre Richard).
For Jeanne and Louis, it's intoxication at first sight; soon the King, rediscovering his appetite for life, anoints her as his new favourite. Unapologetically ignoring propriety and etiquette, with the help of his valet La Borde (a scene-stealing Benjamin Lavernhe), Louis moves her into his Versailles palace, sparking both derision and scandal... and jeopardising relations with the newly-arrived Marie Antoinette (Pauline Pollmann), the Austrian queen-in-waiting... 
Finding mordant delight in the intrigues and rituals of high court life, JEANNE DU BARRY is a visual feast – sumptuously filmed in 35mm on location at Versailles and featuring majestic costumes and production design. In tracing a passionate woman, guilty only of trying to rise above her station, Maiwenn delivers an exuberant and sensitive portrait of class, ambition and both the rewards and risks of living in the public eye.