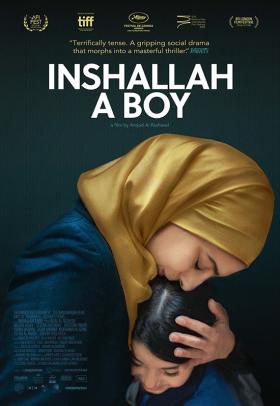 A refreshing take on complex family dynamics. Mouna Hawa's sincere and gutsy performance will win audience favour.
WINNER – 2023 CANNES FILM FESTIVAL (CRITICS' WEEK) - Gan Foundation Prize
WINNER - 2023 ASIA PACIFIC SCREEN AWARDS - Best Performance (Mouna Hawa)
OFFICIAL SELECTION - 2023 SYDNEY FILM FESTIVAL
OFFICIAL SELECTION - 2023 MELBOURNE INTERNATIONAL FILM FESTIVAL
OFFICIAL SELECTION - 2023 BFI LONDON FILM FESTIVAL
Making history as the first Jordanian film to receive selection at the Cannes Film Festival, writer/director Amjad Al Rasheed's gripping debut feature follows a determined young woman who must contend with both patriarchal laws and familial tensions in a desperate fight for her own independence.
Amman, present day. Thirty-something mother-of-one Nawal (Mouna Hawa, in a captivating performance) works for a wealthy Christian family as a carer. She and her devout Muslim husband have been trying to conceive, but Nawal's world unexpectedly crumbles when he passes away unexpectedly. According to Jordan's laws, because she has 'only' given birth to a daughter, her husband's family is entitled to a share of everything she owns - including the home into which she invested her own money - and her deceptively mild-mannered brother-in-law Rifqi (Haitham Omari) is only too keen to begin the handover process.
Desperate to provide a stable life for six-year-old Nora (Celina Rabab), and otherwise out of options in a culture and a country where her rights are restricted, Nawal takes an enormous risk in the hope of delaying court proceedings. But her actions trigger consequences that push her into a frantic race against time…
Inspired by the real-life experiences of a close relative, and expertly building suspense and narrative turns in the best tradition of the works of Asghar Farhadi, Al Rasheed's beautifully-constructed moral fable illuminates what happens when a woman refuses to accede to tradition, and places herself at enormous personal and societal risk.