NOW AVAILABLE TO OWN OR VIEW ON DEMAND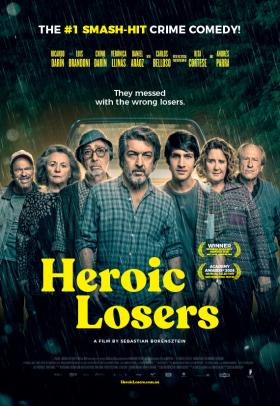 An amiable confection that hits all the right notes. Caper movies, done well, are always popular. They satisfy everyone's desire to get away with something scot-free, to equalise the bad luck that makes us all losers. They're about envy leavened by justice: the person or institution being robbed always deserves it. Ricardo Darín embodies the post-junta disappointment of all Argentinians. He is perfect in the role.
Affecting and satisfying. The jollity comes from the personalities of the characters and their collegiality, but there's a solemn backdrop of corruption and despair pervading each scene.
A crowdpleaser. Generous, cathartic entertainment. What really gives 'Heroic Losers' a boost is its expression of national character, the way it attaches itself to this rousing fantasy to score one for the downtrodden.
Throughly entertaining. Like 'Ocean's 11' meets 'How to Steal a Million'."
Thoroughly likeable, empathetic and entertaining. Ricardo Darín is as charismatic as ever.
OFFICIAL SELECTION (ARGENTINA) – 2020 ACADEMY AWARDS
WINNER - 2020 SPANISH ACADEMY AWARDS (GOYAS) - Best Ibero-American Film
NOMINEE (x6) - ARGENTINIAN ACADEMY AWARDS incl. Best Film, Best Director, Best Actor (Darín) & Best Adapted Screenplay
OFFICIAL SELECTION – TORONTO INTERNATIONAL FILM FESTIVAL
OFFICIAL SELECTION - SAN SEBASTIÁN INTERNATIONAL FILM FESTIVAL
Featuring an all-star Argentinian cast (including Ricardo Darín and son Chino on screen together for the first time), the new comedy from Sebastián Borensztein (Chinese Take-Away) is a rousing tale of working-class solidarity and collective revenge, based on a novel by Eduardo Sacheri (The Secret In Their Eyes).
The year is 2001, and Argentina is hitting the lowest point in its great depression. His glory days far behind him, retired soccer star Fermín (Darín senior) now runs a service station in a sleepy provincial town. Hoping to pull his family and their community out of decline, Fermín convinces friends and neighbours to invest with him to create a storage business, only for the fledgling co-operative to be railroaded by a conniving bank manager and a corrupt lawyer. Their money is placed into a savings account just as the banks are about to be frozen by the government, quashing their plans. They lose everything.
For a time things seem only to get worse, until rumours spread of a secret depository containing the co-op's pilfered cash and much, much more. With Fermín as their Robin Hood–esque leader, the group conspires to infiltrate the cache...
Revenge has never felt so satisfying – or sweetly ironic.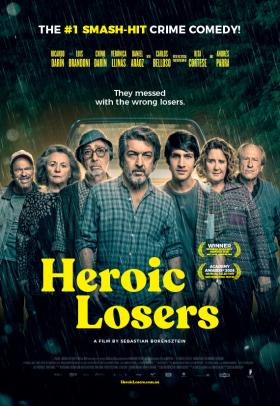 NOW AVAILABLE TO OWN OR VIEW ON DEMAND