NOW AVAILABLE TO OWN OR VIEW ON DEMAND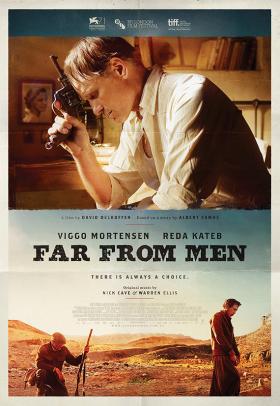 Unravels in spectacular landscapes as an exploration of moral dilemmas in the guise of a Western. Music by Nick Cave and Warren Ellis adds enormously to the atmosphere.
Powerful. For lovers of pure cinema. What fixes our attention is the wonderfully delicate performance from Mortensen. It's his journey from neutrality to taking a stand that is the heart of the movie. The ending hits with the force of a sledgehammer.
Outstanding. Mortensen excels. Memorably shows how the individual can still matter.
OFFICIAL SELECTION – 2014 VENICE FILM FESTIVAL
OFFICIAL SELECTION – 2014 TORONTO FILM FESTIVAL
OFFICIAL SELECTION – 2014 BFI LONDON FILM FESTIVAL
OFFICIAL SELECTION – 2015 TRIBECA FILM FESTIVAL
Featuring a career-best performance from the multi-talented Viggo Mortensen and a superb original soundtrack by Nick Cave and Warren Ellis, FAR FROM MEN is a gripping tale of morality and friendship set during the Algerian War, against an imposing mountainous landscape.
The year is 1954, the war is beginning and village schoolteacher Daru (Mortensen), an ex-French Army soldier, is caught in the crossfire. Born in Algeria but Spanish by lineage, he's a man out of time and place, perceived as alien by both locals and colonisers alike. So when he reluctantly agrees to escort a dissident (rising star Reda Kateb, of A Prophet & Zero Dark Thirty) to a regional police station to face trial for murder, a series of incidents and revelations force the question of where Daru's loyalties truly lie. 
Based on a story by Albert Camus, writer/director David Oelhoffen's masterful, breathtakingly-shot drama bears all the hallmarks of a classic frontier drama, yet carries strong contemporary resonances. Widely acclaimed at the Venice Film Festival where it premiered in Official Competition, FAR FROM MEN is grand, big-screen adult entertainment at its finest.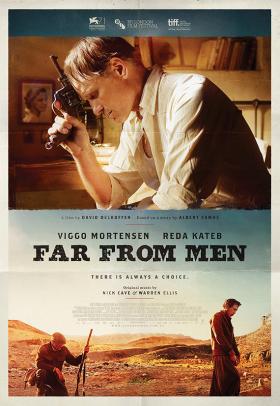 NOW AVAILABLE TO OWN OR VIEW ON DEMAND