NOW AVAILABLE TO OWN OR VIEW ON DEMAND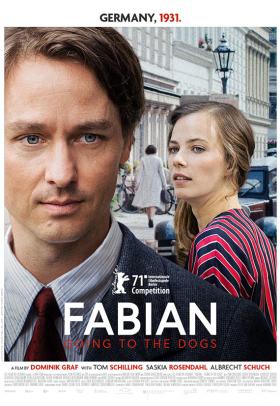 Briskly involving. Freewheeling and stylistic, the film's trump card is the heady verve mustered by Graf, who uses very free visual and narrative flourishes to give this potentially sombre material a propulsive thrust.
Poetic, ugly, romantic, tragic, and side-splitting. It's quite exhilarating!
2021 GERMAN ACADEMY AWARDS (LOLAS) – NOMINEE (x10!) incl. Best Film, Direction, Screenplay, Leading Actress, Supporting Actress & Production Design
OFFICIAL SELECTION (COMPETITION) - 2021 BERLIN FILM FESTIVAL
OFFICIAL SELECTION (CENTREPIECE) - 2021 GERMAN FILM FESTIVAL
Based on Erick Kästner's iconic novel, writer/director Dominik Graf (Beloved Sisters) re-unites Never Look Away stars Tom Schilling and Saskia Rosendahl for this exhilarating coming-of-age drama set in Berlin in the tumultuous period between the 1929 market crash and the Nazi Party's rise to power.
Raffish twenty-something Jakob Fabian (Schilling) works as an advertising copywriter for a cigarette company during the day and at night, drifts through cabaret bars, brothels and artist studios with his wealthy leftist friend Labude (rising star Albrecht Schuch). When he meets Cornelia (Rosendahl), a self-confident aspiring actress, he manages to shed his pessimistic attitude for a brief moment and falls in love. But then, he too loses his job as part of the great wave of layoffs, whilst Cornelia's career blossoms thanks to her boss and admirer, Makart (Aljoscha Stadelmann), a Babelsberg Studio mogul. It's an arrangement that Fabian finds difficult to come to terms with, and it's not just his world that is falling apart...
Capturing a world of moral decline and disillusionment, this 'Bildungsroman' is a wildly enthralling dive into Weimar Germany on the edge of self-destruction. Fans of the multi award-winning Babylon Berlin will be similarly entranced.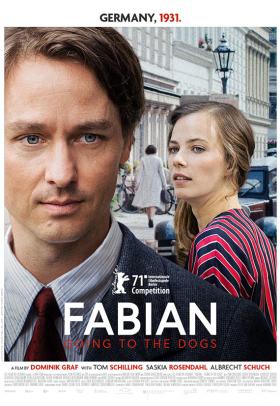 NOW AVAILABLE TO OWN OR VIEW ON DEMAND