PREMIERE SCREENINGS - 2021 MORO SPANISH FILM FESTIVAL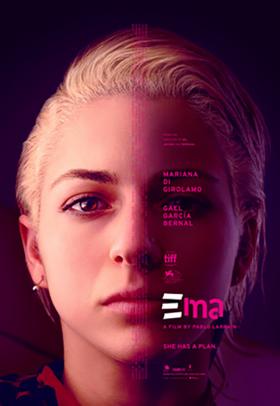 Erotic and suspenseful, astoundingly accomplished. One of the most ambitious and visually stunning films of the year.
An indelible spectacle. One of the year's best. The narrative slowly reveals itself as an especially perverse kind of 'intimacy thriller' – not with action sequences but spellbinding psychological and erotic power games. The pleasures of Ema are many.
Hugely distinctive and daring. Larrain proves a master rug-puller.
Electrifying. One of the year's most dynamic and electrifying films – anarchic, liberated, and contagiously alive. The film is carried along by elemental forces and emotional undercurrents; scenes don't spur the narrative forward so much as they work to melt the space between hearts and bodies. Mariana Di Girolamo gives an incredible breakout performance.
OFFICIAL SELECTION – VENICE INTERNATIONAL FILM FESTIVAL (IN COMPETITION)
OFFICIAL SELECTION – TORONTO INTERNATIONAL FILM FESTIVAL
OFFICIAL SELECTION – BFI LONDON FILM FESTIVAL
CLOSING NIGHT SELECTION - MELBOURNE INTERNATIONAL FILM FESTIVAL
One of contemporary cinema's most exciting and award-winning directors, the remarkable Pablo Larraín (No, Jackie, Neruda) unites Gael García Bernal with striking newcomer Mariana Di Girolamo in EMA, an immersive and incendiary new drama about art, desire, performance and family, set in the vibrant dance world of the port city of Valparaíso, Chile.
Free-spirited, platinum-blonde Ema (Di Girolamo) is a beguiling, stubborn and fiercely talented young dancer and teacher. Her insatiable passion lies in the sexy reggaetón music she and her friends dance to on the city's streets; she's forged a career as part of an experimental modern ensemble overseen by her husband, demanding choreographer Gastón (Bernal).
The couple is reeling from a crisis: they've just returned their adopted 12-year-old son Polo back to child services, after the troubled boy set fire to their home and injured Ema's sister. The couple's agonising decision spins the marriage into chaos, but the guilt-ridden Ema refuses to let go, and sets out on a strange, secretive, and fearless quest to reunite her family…
Interspersing sequences of stunning choreography with a gripping and ingeniously structured narrative of seduction and manipulation, all set to an immersive electronic score by Nicholas Jaar, Larraín's mesmerising film hinges on Di Girolamo's extraordinary performance: tender, volatile, physical and fully alive. The result is unforgettable.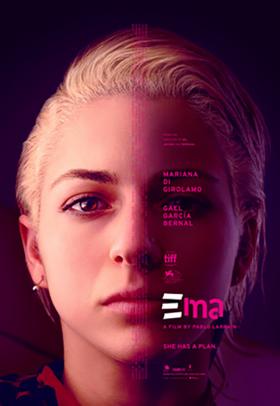 PREMIERE SCREENINGS - 2021 MORO SPANISH FILM FESTIVAL
Touring nationally, 20 Apr-16 May