NOW AVAILABLE TO OWN OR VIEW ON DEMAND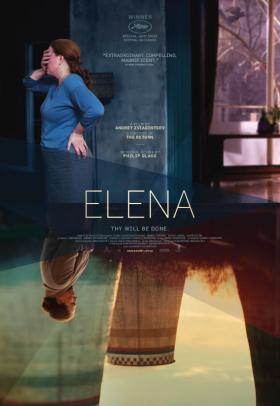 Outstanding. Exquisitely photographed with pristine symmetry, and using a striking music score by Philip Glass, this quietly disturbing film makes a considerable impact. Masterly.
Beautifully done. Zvyagintsev is a really wonderful filmmaker.
A riveting nail-biter of a thriller. Extraordinary. A thoroughly modern twist on the classic noir, framed for our modern times in contemporary Moscow. Exemplary and entertaining.
WINNER - 2011 CANNES FILM FESTIVAL - Special Jury Prize (Un Certain Regard)
WINNER - RUSSIAN ACADEMY AWARDS (NIKAS) - Best Director, Actress (Markina), Supporting Actress (Lyadova), Cinematography
OFFICIAL SELECTION - TORONTO INTERNATIONAL FILM FESTIVAL
OFFICIAL SELECTION - SUNDANCE FILM FESTIVAL
The winner of the Un Certain Regard Special Jury Prize at Cannes 2011, Russian maestro Andrey Zvyagintsev's is a taut & engrossing noir thriller of loyalties, familial ties, and a coveted inheritance, fuelled by class warfare in Putin's new Russia.
Middle-aged couple Elena (Nadezhda Markina) and Vladimir (Andrey Smirnov), come from different walks of society. He is a well-off businessman; she is a former medical worker, now a housewife. Having met late in life, each has children from previous marriages. Elena's son is unemployed and constantly asking for money. Vladimir's daughter is a careless young woman whose contact with her father is irregular and strained. Their worlds rupture when a heart attack puts Vladimir in hospital and he makes a significant decision: his daughter will be the only heiress of his wealth. The shy and submissive Elena's hopes of helping her son and grandchildren secure a better life are crushed, triggering a desperate plan…
With ELENA, Zvyagintsev (The Return) conjures a riveting and uncompromising vision of a Russia in moral disarray, and a masterful insight into human nature.