NOW AVAILABLE TO OWN OR VIEW ON DEMAND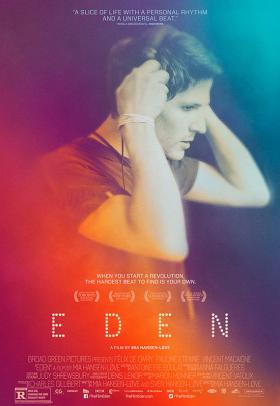 There's something dreamily observational about the way Hansen-Love brings this world to the screen, tracing the passage of time and a slice of the recent history. The film has a tactile sense of scene and sound, an evocation of space and place, of moments of exhilaration and excess and exhaustion. The soundtrack is an epic, enveloping element in its own right.
OFFICIAL SELECTION – 2014 SAN SEBASTIAN FESTIVAL
OFFICIAL SELECTION – 2014 TORONTO FILM FESTIVAL
OFFICIAL SELECTION – 2014 NEW YORK FILM FESTIVAL
OFFICIAL SELECTION – 2015 SUNDANCE FILM FESTIVAL
Mia Hansen-Løve followed her acclaimed Father Of My Children and Goodbye, First Love with this exhilarating, semi-biographical drama about the rise of the 'French touch' electronic music scene in the 1990s, one that spawned worldwide superstars like Daft Punk and Cassius.
With a narrative spanning two decades, EDEN revolves around aspiring Parisian DJ, Paul (the captivating Félix de Givry), as he steps into the underground dance music scene. Raves dominate, but he's drawn to the more soulful rhythms of Chicago's garage house movement. He and best friend Stan form a duo and drop out of daytime society in their all-encompassing pursuit of ceaseless beats and bass, emotional and pharmaceutical highs, and a string of relationships (excellent support here from Greta Gerwig, Laura Smet and Pauline Etienne).
Inspired by the experiences of her brother and collaborator Sven, Hansen-Løve's film is a spectacular panorama of beautiful faces and bodies, rushes of cascading light and colour and, of course, music. Shifting between euphoria and melancholy, EDEN is a film that pulsates with the reckless heartbeat of youth.