NOW AVAILABLE TO OWN OR VIEW ON DEMAND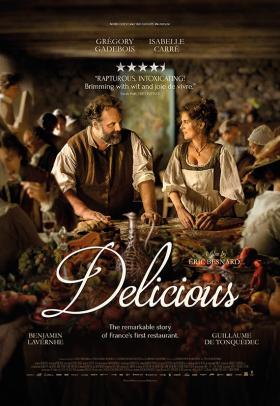 A richly enjoyable holiday treat. Sumptuously photographed, it's an entertaining celebration of French food and culture. My advice: book a table at a French restaurant after seeing the film.
A pleasure. Light, luscious, irresistible. A jaunty celebration of food culture, 'Delicious' is a seriously good trifle for celebrating the festive season.
A crowd-pleasing story with mass appeal, buoyed by likeable performances. Eat before you sit down, because 'Delicious' will make you ravenous... A feast for the eyes, the parade of mouth-watering food makes Sofia Coppola's 'Marie Antoinette' look paltry.
Beautiful. A delight! For adults craving a bit of humour in their lives, something pleasant and wonderful for the eye, this is the perfect film. There's so much on offer here... it's absolutely great to look at, and it's a wonderful story.
Marvellous. A film as good as its title's promise: leaving aside the exquisite cinematography of haute cuisine, the movie is filled with dangers overt and covert, tensions sexual and political, swift turns of events, and humour. There's never a dull moment.
Writer/director Éric Besnard's mouth-watering new historical comedy indelibly pairs Grégory Gadebois and Isabelle Carré as a gifted chef and his unlikely protégé, who must find the resolve to free themselves from servitude.
In 1789 France, just prior to the Revolution, gastronomy is strictly the domain of the aristocrats; indeed, the prestige of a noble house is entirely dependent on the quality and reputation of its table. So, when the talented but prideful cook Manceron (Gadebois) serves an unapproved dish of his own creation at a dinner hosted by the self-entitled Duke of Chamfort (C'est La Vie's Benjamin Lavernhe), the repercussions are brutal, and he is promptly dismissed.
The wounded Manceron swears off his passion and retreats with his son to a regional inn visited only infrequently by travellers, and where vegetable soup is the common meal. But when a mysterious woman (Carré) arrives and offers to pay to become his apprentice, the stage is set for a wildly enjoyable tale of reignited passion, mentorship and revenge... and of the creation of France's very first restaurant.
Joining the ranks of films such as Big Night, Chocolat and Babette's Feast in its joyous depiction of the preparation and love of fine cuisine, DELICIOUS is just that.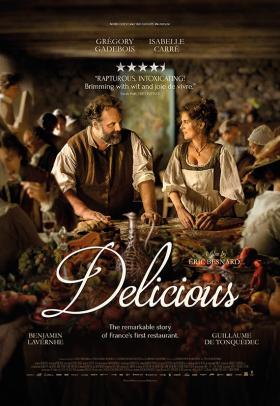 NOW AVAILABLE TO OWN OR VIEW ON DEMAND