NOW AVAILABLE TO OWN OR VIEW ON DEMAND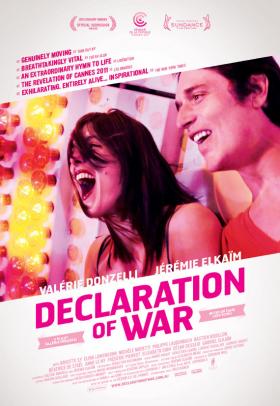 Exhilarating. Wonderfully spontaneous – feels entirely alive. This story of two people who transform fear into action is inspiring
OFFICAL SELECTION (FRANCE) - 2012 ACADEMY AWARDS
OPENING NIGHT SELECTION (CRITICS' WEEK) – 2011 CANNES FILM FESTIVAL
Based on real-life events experienced by filmmaker Valérie Donzelli and co-star/writer Jeremie Elkaim, DECLARATION OF WAR tells the powerful but life-affirming story of a young Parisian couple suddenly dragged from their carefree existence by an unexpected twist of fate, and their against-the-odds determination to defy it.
Beautiful Juliette (Donzelli) and dashing Romeo (Elkaïm) are two insouciant souls whose electric first encounter and rapid storybook romance is quickly followed by the birth of a child. But their lives are transformed overnight when a visit to their pediatrician results in a stunning verdict: their infant son Adam is seriously ill.
As unexpected as this news is, Juliette & Romeo accept the battle head on, and with the support of their families, friends and dedicated public healthcare workers (many playing themselves), end up revealing their strengths, weaknesses, fears and secrets to each other, as well as the world.
Shot with heart-on-sleeve enthusiasm and delirious energy, with DECLARATION OF WAR Donzelli and Elkaim follow in the free-spirited footsteps of the New Wave in telling a heartfelt autobiographical story in a lively, poetic style, full of humour, emotion and visual panache, set to a soundtrack to die for.
After premiering as the opening night of Critics' Week at the 2011 Cannes Film Festival, DECLARATION OF WAR attracted front page coverage in France and took the local box office by storm, achieving over 500 000 admissions in less than two weeks. Against some high profile competition, the film was selected as France's official submission for the 2012 Academy Awards.