NOW AVAILABLE TO OWN OR VIEW ON DEMAND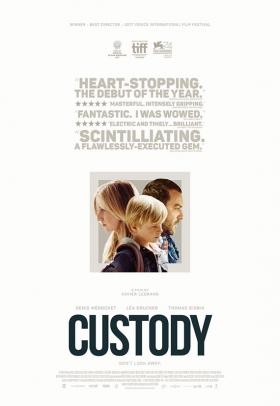 Completely gripping. Socially relevant and committed. We should thank the earthly powers that there are still some countries in which such a film is possible.
Achieves momentous power. This is a film where strangers (at a general public screening at the French Film Festival) and I all checked in with each other afterwards, because we were all so moved, and shaken. A spectacular debut.
WINNER – 2019 CÉSAR AWARDS (x4) – Best Film, Actress, Original Screenplay & Editing
WINNER – 2019 LUMIERE AWARDS – Best First Film
WINNER – 2018 PRIX LOUIS DELLUC – Best First French Film
TOP 5 – NATIONAL BOARD OF REVIEW 2018 – Best Foreign Language Film
WINNER – 2017 VENICE INTERNATIONAL FILM FESTIVAL – Best Director & Best Debut Film
WINNER – 2017 SAN SEBASTIAN FILM FESTIVAL – Audience Award
OFFICIAL SELECTION – 2017 TORONTO INTERNATIONAL FILM FESTIVAL
OFFICIAL SELECTION – 2017 BFI LONDON FILM FESTIVAL
One of the most astonishing film debuts in recent memory, Xavier Legrand's heart-stopping drama charts a family's struggles with the fallout of divorce, and the resulting arrangements for (and impact on) the two children.
Miriam (Léa Drucker, The Blue Room) and Antoine (Denis Ménochet, The Returned) have recently separated. While she's willing to permit their 17-year-old daughter Josephine (Mathilde Auneveux) to decide living arrangements for herself, Miriam is desperate to keep her youngest, 11-year-old Julien (Thomas Gioria), away from his father. But the magistrate rules in favour of joint custody, and suddenly the boy is thrown directly into the middle of an escalating parental conflict, where it seems inevitable that sides must be chosen.
Superbly observed and flawlessly acted (the heartrending performances of the two children are more than worth the price of admission), Legrand's precise dissection of this family dynamic masterfully builds into a pulse-pounding thriller. Honest, yet still evoking profound sympathy for all its protagonists, CUSTODY is sure to be remembered as one of the most important and vital films of 2018.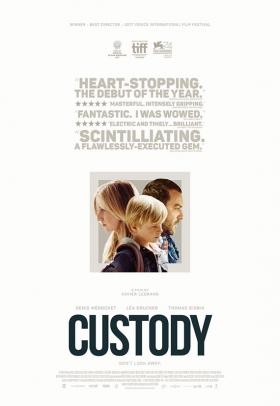 NOW AVAILABLE TO OWN OR VIEW ON DEMAND