NOW AVAILABLE TO OWN OR VIEW ON DEMAND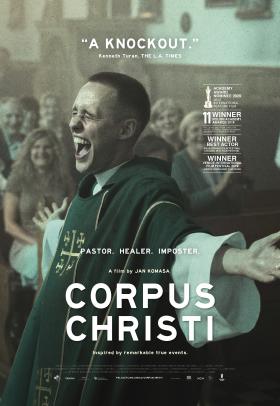 Mesmerising. Bartosz Bielenia is extraordinary, his face reflects his fear, his passion, his doubt, his vulnerability. It's a truly wonderful performance. But all the performances are convincing.
My pick thus far as best film of 2020. Komasa explores a crisis of spirituality and religion. The film could be played as a comedy of mistaken identity, though while it has great moments of humour, it is instead a nail-biter.
Truly powerful. A film that resonates long after we leave the cinema. Bielenia's performance in the lead role is breathtaking. One of those rare films that feels like an instant masterpiece.
AUSTRALIAN FINANCIAL REVIEW
Urgent and compelling. A fiery take on faith and fakery, as open to interpretation as a biblical parable… and just as potent.
Sublime filmmaking. Highly recommended.
Powerful. Gripping from the start. This is not a film that preaches – thanks to the compelling writing of Mateusz Pacewicz, taut direction from Jan Komasa, and admirable performances across the board, it's never ponderous or oppressive, building narrative tension while weaving its moral intricacies and dilemmas.
An understated, fierce masterpiece. One of the finest films of the year. A stark, compelling film about authenticity, morality and identity that asks vital questions about the true meaning of redemption and belief.
2020 ACADEMY AWARD NOMINEE – Best Intl. Feature
WINNER (x11) – 2020 POLISH ACADEMY AWARDS – incl. Best Film, Director, Actor, Actress, Screenplay, Cinematography & Audience Prize
WINNER – 2020 PALM SPRINGS FILM FESTIVAL – Best Actor
WINNER – 2019 VENICE INTL. FILM FESTIVAL – Europa Cinemas Award
WINNER – 2019 CHICAGO FILM FESTIVAL – Best Actor
Inspired by true events, Jan Komasa's multi award-winning drama CORPUS CHRISTI is a remarkable tale of morality and redemption, about a charismatic young ex-convict who fooled an entire Polish village by falsely posing as a priest.
20-year-old Daniel (Bartosz Bielenia, a major screen discovery) has found God whilst incarcerated in a youth detention centre, but his criminal record excludes him from entering the seminary. At the end of his sentence he is sent to a small town to take up a position in a woodworking factory, but thanks to a stolen collar is mistakenly taken as the parish's new clergyman. It's a seemingly God-given opportunity for transformation, and Daniel – whilst wholly unconventional in his approach (and after a shaky start) – takes to the pulpit with a fervour and compassion that his predecessor has clearly lacked.
Meanwhile, the arrival of this magnetic young preacher seems to be the spark needed for the town to acknowledge a recent tragedy that has affected the entire community, one that few have been able to speak about. But not everyone is open to his approach, and Daniel learns the hard way that following the road to salvation can also lead one astray…
Astutely navigating themes of faith, virtue and forgiveness, Komasa's disciplined and unflinching direction is exponentially enhanced by the simply jaw-dropping lead performance from young Bielenia. Widely hailed by critics and audiences as the stand-out discovery of the 2019 Venice and Toronto Film Festivals, CORPUS CHRISTI became a box office sensation in Poland, overtaking Pawel Pawlikowski's Cold War by achieving over 1.35 million admissions. It demands – and deserves – equal international attention.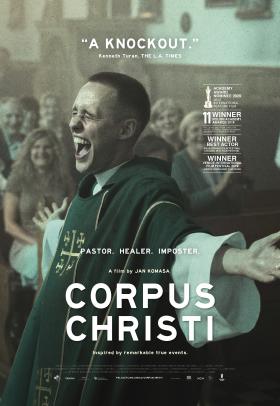 NOW AVAILABLE TO OWN OR VIEW ON DEMAND