NOW AVAILABLE TO OWN OR VIEW ON DEMAND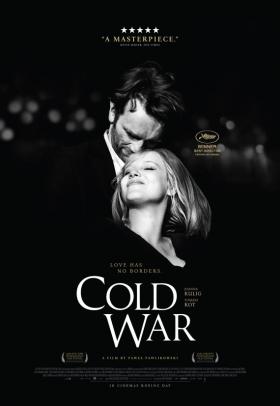 2019 ACADEMY AWARDS NOMINEE (x3) – Best Director, Best Cinematographer, Best Foreign Language Film
2019 BAFTA AWARDS NOMINEE (x4) – Best Director, Original Screenplay, Cinematography & Film not in the English language
WINNER (x7) – POLISH ACADEMY AWARDS – incl. Best Film, Director, Actress, Script & Cinematography
WINNER – 2018 CANNES FILM FESTIVAL – Best Director
WINNER (x5) – 2018 EUROPEAN FILM AWARDS – Best Film, Director, Actress, Editor & Screenwriter
WINNER – 2018 NATIONAL BOARD OF REVIEW – Best Foreign Language Film
WINNER – 2018 NEW YORK FILM CRITICS' CIRCLE – Best Foreign Language Film
A critical and audience favourite at the 2018 Cannes Film Festival (where it was awarded the Best Director prize), Paweł Pawlikowski's follow-up to the Academy Award-winning Ida is a ravishing, music-fuelled romance charting two mismatched lovers caught between East and West in 1950s Europe.
In the ruins of post-WWII Poland, pianist Wiktor (Tomasz Kot) is commissioned by the Soviet state to form a musical ensemble to help rekindle national pride. Whilst touring the villages in search of talent he meets the beautiful Zula (Joanna Kulig, in a luminous star-making turn), a fiery and charismatic singer with a past, and the two fall passionately in love. When a performance in Berlin offers the pair an opportunity for escape to the West, a last-minute decision finds them stranded on either side of the Iron Curtain. As the years march on, Wiktor and Zula – whether through political circumstance or personal impetuosity – struggle to find their moment in time…
 
Spanning 15 years across Warsaw, Berlin, Paris and Yugoslavia, and inspired by the lives of the director's own parents, COLD WAR meticulously recreates the era with virtuosic black-and-white cinematography, and an extraordinary soundtrack that is used judiciously to signify the passage of time and shifting relationships. Warmly lyrical, impossibly romantic and visually stunning, COLD WAR is one of the films of the year.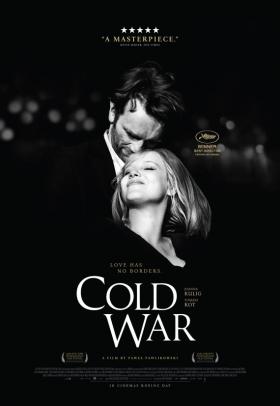 NOW AVAILABLE TO OWN OR VIEW ON DEMAND