NOW AVAILABLE TO OWN OR VIEW ON DEMAND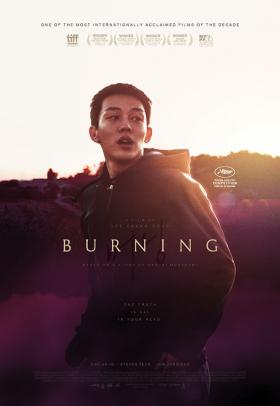 A triumph! A quietly riveting stunner. Morphs with masterly patience, subtlety and nary a single wasted minute, into a teasing mystery and eventually a full-blown thriller. The story's slow-building pleasures are less about the haunting final destination than the subtle, razor-sharp microcurrents of class rage, family-inherited pain, everyday ennui and youthful despair that build in scene after scene. This is the most absorbing movie I've seen this year, as well as the most layered and enigmatic.
OFFICIAL SELECTION – 2019 ACADEMY AWARDS – Best Foreign Language Film
WINNER – 2019 ASIAN FILM AWARDS – Best Director
WINNER – 2018 CANNES FILM FESTIVAL – FIPRESCI Critics' Prize for Best Film
WINNER – 2018 ASIA PACIFIC SCREEN AWARDS – Jury Grand Prize
WINNER – 2018 KOREAN ACADEMY AWARDS – Best Film
TOP 5 – NATIONAL BOARD OF REVIEW 2018 – Best Foreign Language Film
 
Based on a story by Haruki Murakami, Korean master Chang-dong Lee's remarkable new thriller BURNING was the most acclaimed film of Cannes, setting a record for the highest-ever score achieved in the 18-year history of Screen International's prestigious critics' poll. Novelistic in scope, grandeur and impact, and featuring three brilliant performances, it's a gripping psychological study of thwarted love, ambition and obsession.
While working as a courier in Seoul, aspiring young writer Jong-su (Yoo Ah-in) encounters the lively Hae-mi (Jong-seo Jun), a childhood friend from his hometown. The two spend the day together, and when Hae-mi asks him to feed her cat while she's away on a trip to Africa, Jong-su is convinced of a burgeoning romantic relationship. But on her return, when he arrives at the airport to collect her in his run-down truck, Jong-su is surprised and confused to find Hae-mi accompanied by the handsome, Gatsby-esque Ben (a superbly enigmatic Steven Yeun, Okja, The Walking Dead). The three begin an awkward friendship, with Jong-su's feelings for Hae-mi growing ever stronger, even if it's apparent she has fallen under the spell of his rich and mysterious rival's charms. 
Suddenly, after Ben makes a strange confession, Jong-su is led to question his motivations and he sets off on an increasingly desperate search to uncover the truth, even if the line between reality and imagination begins to blur.
Anchored by a peerless cast, exquisite pacing and a pulsating original score by Mowg, Lee's masterful film creates a tantalising mood of uncertainty and complexity, with the story's themes of class, family, rage and lust rising feverishly to the surface. Teasing and noirish, BURNING is an impossible-to-forget big screen experience, and the best film yet from one of world cinema's most internationally celebrated auteurs.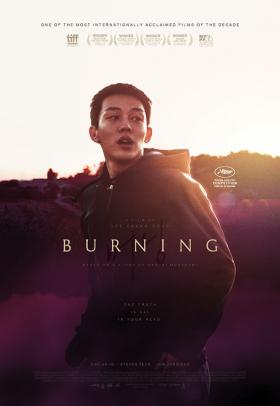 NOW AVAILABLE TO OWN OR VIEW ON DEMAND