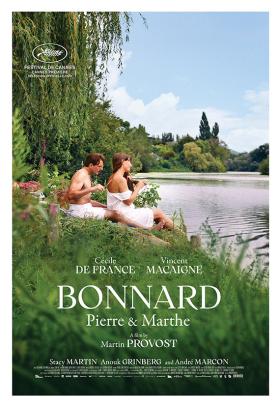 Beautiful and poetic, but also deeply compelling and wonderfully provocative in tasteful and earnest ways, BONNARD, PIERRE AND MARTHE is an extraordinary and well-crafted drama, a spirited examination of desire and artistry, two deeply intertwined concepts.
OFFICIAL SELECTION - 2023 CANNES INTERNATIONAL FILM FESTIVAL (Premiere)
Vincent Macaigne and Cecile de France star in BONNARD: PIERRE & MARTHE, the new historical drama from multi award-winning director Martin Provost (Séraphine, The Midwife) about the love story between the famous post-Impressionist painter and his lesser-known (but influential) wife.
1893. When aspiring French painter Pierre Bonnard (Macaigne) - a protégé of Claude Monet - meets Marthe de Méligny (de France), he has no idea that this self-proclaimed aristocrat will become the cornerstone of his life and work. From this moment, she's more than just a muse, appearing in over a third of his work. Together, over five decades, they will reach their artistic fulfillment thanks to a colourful love, different from the standards of the time, nurturing the great mystery around their relationship.
From the producers of La Belle Epoque and Masquerade, BONNARD: PIERRE & MARTHE is a brilliant story of creation and love, of fame and secrets, and the life of the remarkable artist nicknamed "the painter of happiness".