NOW AVAILABLE TO OWN OR VIEW ON DEMAND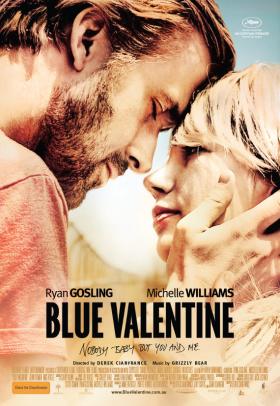 A winner. Gosling and Williams are two of the finest young US actors around. Entrancing right from the start… the subtle performances and alert visual approach send the tale straight to the heart.
Very rarely have I seen a film where the relationship is so convincing. Both performances are outstanding
2011 OSCAR NOMINEE – BEST ACTRESS – MICHELLE WILLIAMS
Academy Award nominees Ryan Gosling and Michelle Williams star in BLUE VALENTINE, a romantic drama that follows the intense relationship between a couple who fall passionately in love in their early twenties, and then face challenges to their marriage six years later.
Dean (Gosling) and Cindy (Williams) are parents of a beloved young daughter, but their relationship has seen better days as they struggle with the demands and expectations of work and family life. At breaking point, but flooded with romantic memories of their courtship, the couple steals away to a hotel; they have one night to try and rekindle their passion, and save their marriage.
Deftly pulling between past and present moments in time, BLUE VALENTINE is a raw and subtly-drawn portrait of the ebb and flow of love. Under the assured direction of Derek Cianfrance (who developed the project over a twelve year period), the extraordinary, award-calibre lead performances elevate a universal story to gripping emotional heights. BLUE VALENTINE is also enriched by the contributions of acclaimed cinematographer Andrij Parekh and Brooklyn band Grizzly Bear, who provide an elegiac soundtrack to this intimate, honest and deeply affecting cinema experience.
BLUE VALENTINE was the only film of 2010 to have received Official Selection at the Sundance, Cannes and Toronto Film Festivals.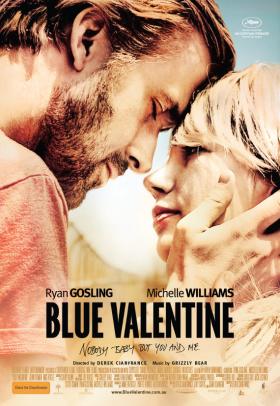 NOW AVAILABLE TO OWN OR VIEW ON DEMAND