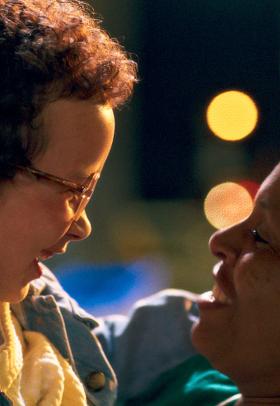 Incredibly moving and exquisitely sensitive. With tiny, delicate brushstrokes, Marie Amachoukeli paints an accurate and poignant picture (without any heavy-handedness) which is inspired in the simple way it singles out subtle yet incredibly crucial moments: a movement, a look, an ordinary situation which resonates inside of us.
By turns selfish, funny, affectionate, cruel and conniving, Cléo is a showstopper – perhaps the most vividly drawn child character since Tatum O'Neal in 'Paper Moon' – and Mauroy-Panzani's performance is a thing of wonder, so finely shaded and so deeply felt as to put most adult actors to shame. By the end, I felt like I'd witnessed something precious: a sort of parable about the twinned nature of love and sacrifice.
OPENING NIGHT SELECTION (CRITIC'S WEEK) – 2023 CANNES FILM FESTIVAL
WINNER - 2023 JERUSALEM FILM FESTIVAL - Best International Film Prize
OFFICIAL SELECTION - 2023 MELBOURNE INTERNATIONAL FILM FESTIVAL (Bright Horizons)
OFFICIAL SELECTION - 2023 NEW ZEALAND INTERNATIONAL FILM FESTIVAL
OFFICIAL SELECTION - 2023 BFI LONDON FILM FESTIVAL
Celebrated as one of the major discoveries of the Cannes Film Festival, writer/director Marie Amachoukeli's remarkable ÀMA GLORIA is a vibrant drama that explores the precious bond between a six-year-old French girl and her nanny, and what happens when it is unexpectedly placed in jeopardy.
Paris, present day. Vivacious, personable young Cléo (extraordinary newcomer Louise Mauroy-Panzani) lives with her widowed father (Arnaud Rebotini), but has mostly been raised by her beloved Cape Verdean carer, Gloria (Ilça Moreno Zego), in whose comforting arms she finds refuge and emotional stability. So when Gloria's mother passes away – a life-changing blow for both of them – Gloria must return to her homeland to care for her own children. To ease the anguish of the impending separation, Gloria invites Cléo to her island community to spend one last summer together… There, the young girl will discover an entirely different culture and a new family, and must learn to understand that the world does not revolve around her.
From the producers of Celine Sciamma's Petite Maman and Portrait of a Lady on Fire, ÀMA GLORIA exquisitely captures themes of family, separation and the ties that bind people together from the point of view of its capricious young protagonist. A natural in front of the camera,  Mauroy-Panzani conveys every element of joy, sadness, bravery and regret that Cléo experiences as she confronts seismic change. Her beguiling performance is this deeply moving film's beating heart.