NOW AVAILABLE TO OWN OR VIEW ON DEMAND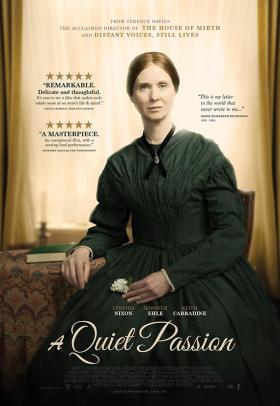 Exquisite. Davies' brings you into Dickinson's world – interior, exterior – rather than tailoring it to 21st-century expectations.
An absolute drop-dead masterwork. One of the rare movies about a writer that convey the sense that the character, as depicted, is capable of artistic creation at a world-historical height of achievement. No filmmaker can create a convincing portrait of an artist without being an artist of comparable imagination. Davies has been, for thirty years, among the world's best filmmakers, certainly not as concealed or unheralded in his time as Dickinson was in hers, but not nearly receiving the acclaim or the support that he has deserved. "A Quiet Passion" will take its place as one of his finest creations, as one of the great movies of the time.
OFFICIAL SELECTION – 2016 BERLIN INTERNATIONAL FILM FESTIVAL
OFFICIAL SELECTION – 2016 SAN SEBASTIAN FILM FESTIVAL
OFFICIAL SELECTION – 2016 TORONTO INTERNATIONAL FILM FESTIVAL
OFFICIAL SELECTION – 2016 BFI LONDON INTERNATIONAL FILM FESTIVAL
OFFICIAL SELECTION – 2016 NEW YORK FILM FESTIVAL
Cynthia Nixon gives a career-best, tour-de-force performance as the legendary 19th Century poet Emily Dickinson in the luminous and intensely moving new film from award-winning filmmaker Terence Davies (Distant Voices Still Lives, The House of Mirth), named by The Guardian as 'Britain's greatest living director'.
Born into privilege in 1830, Emily Dickinson spent most of her life on her parents' estate in Armherst, Massachusetts. In her youth, the introverted Emily is depicted as a fiercely intelligent young woman who exchanges forthright opinions on life and art – and, more particularly, on the place of women in a patriarchal society.
Emily becomes more and more reclusive as the years pass, gradually withdrawing from society. In her cloistered existence she is consumed by poetry, but the lack of recognition – fewer than a dozen of her nearly 1800 poems were published in her lifetime – and her frustrations regarding gender inequality and creative integrity make for an ever more vociferous dissention…
Gloriously realising Dickinson's interior world, Davies gives great weight to the role in which her family, and their various bourgeois guests, play in her life. It's Emily's encounters with her sister (Pride & Prejudice's Jennifer Ehle), brother, mother and father (Keith Carradine) that provide the hinge around which the film is structured. 
Stunning in both its sumptuous production design and also in the respect and love that it brings to its subject, the seamless manner in which Dickinson's sharp-sighted verse is integrated into the narrative is one of A QUIET PASSION's many joys. Davies' portrait may just be the perfect match of filmmaker, actress and subject.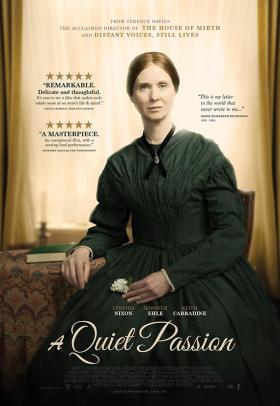 NOW AVAILABLE TO OWN OR VIEW ON DEMAND