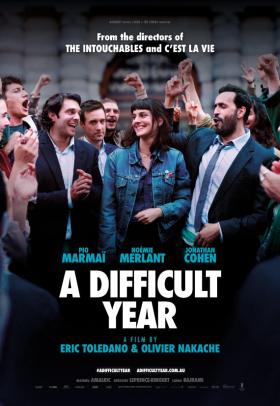 OFFICIAL SELECTION - 2023 TORONTO INTERNATIONAL FILM FESTIVAL (Special Presentation)
The hugely anticipated new comedy from irrepressible filmmaking duo Éric Toledano and Olivier Nakache (The Intouchables, C'est la vie!), A DIFFICULT YEAR stars Pio Marmaï and Jonathan Cohen as two compulsive spenders who get much more than they bargained for when they try and scam their way out of trouble.
In debt up to their necks, Albert (Marmaï) and Bruno (Cohen) have turned to a community worker (Mathieu Amalric) to help them get a grip on their lives. However, at one of their group sessions, they stumble into an adjoining meeting room which is hosting a gathering of young social activists, led by a vivacious organiser (Noémie Merlant). 
Attracted more by the free beer and chips than the group's struggle against consumerism and defence of the environment, Albert and Bruno join the movement without much conviction, but soon begin to sense an opportunity...