NOW AVAILABLE TO OWN OR VIEW ON DEMAND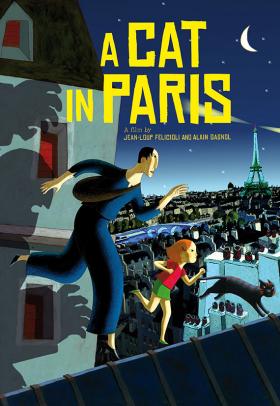 2012 ACADEMY AWARD NOMINEE – BEST ANIMATED FEATURE
By day, a child's beloved companion… by night, a rooftop-roaming thief!
Meet Dino, a common house cat who lives a double life. He's the loyal pet of Zoe, a lonely little girl who lives with her busy single mother Jeanne, a police detective. But after sundown when Zoe goes to sleep, Dino sneaks off to accompany debonair cat burglar Nico, and their nightly prowls take them on breathtaking escapades across the rooftops of Paris. Eventually, Zoe discovers what Dino is up to and she too becomes drawn into a thrilling adventure involving jewels, gangsters and capital-T trouble, all leading to a nail-biting and acrobatic finale atop the gothic Notre Dame.
In this unique, internationally heralded throwback to the traditional art form, every cell of the film has been hand-painted with a stunning & vibrant palette that mirrors the magic and whimsy of the city of lights, as does the cool retro jazz soundtrack. A CAT IN PARIS will enchant fans of felines, animation, mystery and adventure, young and old.